"Once the whistle blows and the battle begins, you're in the moment." Matt McDonough. The 2019 Northern Class B/C Divisional Wrestling tournament commenced on Saturday, February 2nd in Cut Bank. The results of this bracketed, double elimination tournament determine which four wrestlers from each weight bracket will represent the Northern Division at the State Class B/C Wrestling Tournament held in Billings, Montana on February 8th and 9th. The Fairfield Eagles were one of twelve teams competing in this tournament; each team with wrestlers hungry and hopeful to earn their place in the coveted state brackets next weekend.
From the moment the Fairfield Eagle wrestlers, aka, "The Magnificent Seven," stepped onto the mat, they made their presence known. Launching the Divisional tournament was the "Parade of Athletes." The Eagle wrestlers, led by Senior Dillon Anderson, made their way onto the mat when introduced. This team entered the gym with a quiet, but fierce confidence that would prove to drive them forward throughout this day of competition. They represented their community, school, and team with class and integrity.
The beginning match for the Eagles was that of Cael Giles (132) against Evan McCants of Shelby. Giles' first shot grabbed his opponent's attention and drove him to the ground; letting the other teams know that Fairfield meant business! Giles defeated McCants with a decision of 8-4, setting the stage for the rest of his teammates. Giles would wrestle three more matches, ending his day with 2 wins and 2 losses.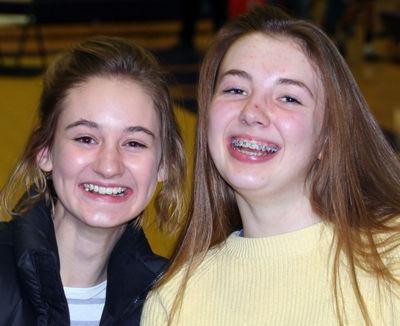 Freshman, Miguel Perez (145), also began his day with a fabulous first round. He won his first match by pinning Peter Johnson from Simms. He continued to wrestle strong, defeating Herman Horetskyi of Simms, as well. Perez's final results for the day were 2 wins and 2 losses.
As most Fairfield families know, it was a rough week for many of the Fairfield students, falling victim to the cold and flu season that always seem to accompany winter. Our wrestlers, including Blake Jensen (160), were no exception. Despite having been ill most of the week, Jensen, in perfect Eagle fashion, battled with all his might even though his fatigue was great. Although his season ended with 2 losses, Jensen left 100% of himself on the mat. His second match went into a grueling overtime, displaying his toughness and desire to win.
Kolter Bouma, sophomore (205), began his divisional tournament with the hopes of earning a repeat trip to state, as he wrestled there as a freshman. Bouma took to the mat, wrestling against Shelby's Matthew Riehl. Bouma pinned Riehl for the win, leading him into his next match with Dillon Sullivan, Cut Bank, also ending with pin for Bouma. Bouma would lose his next match to Lane Hinderager, but overcame the adversity to be victorious over Cash Salsbery of Malta/Whitewater in a decision of 12-6. Bouma then wrestled Bryan Ballard of Choteau for 3rd and 4th place. Ballard won this match, but not before Bouma achieved his goal of representing the Eagles in the state tournament. His results were 3 wins, 2 losses.
The "wow" factor of the day was provided by Junior, Thomas Troy (HWT). Thomas is a newcomer to the sport of wrestling, with this being only his second year. First, Troy wrestled HWT Gunnar Wickum of Chester-Joplin-Inverness, winning by a pin. Troy was defeated in his second match, but came back strong. Next, Troy met up with Harlem's Jeremiah Mount, whom he handily defeated him with another pin. Lastly, Troy reigned victorious over Luke Lawless, landing him in 3rd place, complete with a trip to the state tournament next weekend. When asked about his amazing adventure throughout this wrestling season, Troy answered the following, "The journey to get where I am now has been tough, and has taken a lot of work. As a second year wrestler, the opportunity to compete at the State Tournament feels surreal. It definitely hasn't been easy, but all the support from my Coaches, teammates, and family has gotten me here. All of the other parents and community that show up to the meets really motivates me as well, and I can't wait to use that motivation at state!" Troy's stats for the day were 3 wins and 1 loss.
As a "seasoned Veteran," Senior Dillon Anderson (170) is no stranger to competing in high stakes tournaments. Earning rights to compete in the Class B/C State Tournament both his freshman and Junior years, having a definitive winning record his senior season, and being ranked in 6th place in the Montana's Coaching Poll for class B/C, Anderson's wrestling accomplishments have been great. Anderson now entered the Divisional Tournament with the calm determination to add one more accomplishment to the list…Competing in the State Wrestling tournament one final time as a senior. He did just that! Anderson defeated his opponent Samuel Mishler of Simms with a pin, leading him to face Senior J.R. Seewald in a quest for first place. Anderson came up just short of a victory, but he will lead his team for one last time at the state tournament. "With my final wrestling meet coming up, I am proud to say that I was a part of this team and be on this amazing journey with these amazing people. I want to wish the best of luck to the others going with me and in their future seasons." Dillon Anderson. Final stats for Anderson were 1 win, 1 loss.
And finally freshman, Miguel Ramos (103)… Ramos had a difficult day battling through a bracket of one. The Northern Division is void of any other 103 pound wrestlers. Throughout the season, Ramos competed with other 103 pounders in state wide tournaments such as the Glascow Invitational, CMR Holiday Classic, Choteau Classic, and The Cut Bank Invitational. His performance in these tournaments earned him a 3rd place ranking in the Montana Coaches Pole for Class B/C. During Divisional mixers, Ramos wrestled other competitors weighing 113 pounds. The lack of 103 pound wrestlers in the Northern Division automatically advanced him to the state tournament. Ramos stated that he is "excited" and "pumped up" for state, but also knows full well the challenges yet to come. "This week I need to train twice as hard and give each practice 150% in order to be prepared for my upcoming competition."
In summary, The Fairfield Eagle Wrestlers have had an outstanding season. Freshman, Miguel Ramos; sophomore, Kolter Bouma; Junior, Thomas Troy, and Senior, Dillon Anderson, will represent their team at the Class B/C Wrestling Tournament in Billings. They will be Coached by Mike May, Andy Passmore, Tony May and Jody Brown.
Once the whistle blows, and the battle begins these four wrestlers will be in the moment, their moment, a big moment, and for Senior Dillon Anderson, his final wrestling moment. Thank you Eagle wrestlers and Coaches for your hard work, determination and giving all those who support you the chance to be a part of your unique world, the world of wrestling. You truly are the "Magnificent Seven!" We love you and wish you the best of luck at state.