ALBANY, KY – This week's comments are coming from Albany, Kentucky, which is only about 10 miles from Byrdstown, Tennessee.
Byrdstown is where the "Flowers" have grown for a long time. Byrdstown has some great accommodations for travelers. Just don't expect to find a room at the inn when the fishing tournaments are in town. Even the parking lot here at the Royal Inn has seen its share of high-price boats over the past few days.
As I write this my vacation is winding down. On Monday, as soon as I wrap up this paper, the old Durmax will begin to make its way across the Bluegrass State, heading for home. I miss home, and I especially miss my dog, Ol' Thump.
Readers will recall that when I first arrived in Montana, I wrote the occasional column under the title, "From The Back Porch."
The real back porch is back, I'm proud to say.
My home, when I moved in, had a nice covered back porch, or, technically, "deck."
After a few years, a brutal windstorm came through, and the walls on the house started to vibrate and a terrible slamming could be heard out back. When I looked out, the porch roof was slamming up and down on it's posts and it appeared that the whole porch roof was about to come off and tear up the house roof.
With the help of a friend, we were able to snag the roof down temporarily with a few tie-downs for my motorcycle. Once the storm passed, I went to work with a Sawzall and packed the remains of the roof off to the dump near Great Falls.
The rest of the deck had seen better days, but it was still usable. It lasted for quite a while, and although it was looking well past it's prime, it held up pretty good, even under some pretty deep snows.
Toward the end of our last winter, we got a dump of wet, heavy snow, and I was certain that such a load would destroy the old deck. I planned for another trip to the dump. But the deck survived, and I thought I might squeeze another year or two out of it.
I should have known better. But I tend to put these things off.
Such as the roof on my garage.
The shingles from my garage roof began blowing off quite some time back. I was the last to know. I think my neighbors, the Tacke's, were the first to know. You see, the shingles from my garage must have seen greener pastures over there, so they made the leap into the Tacke's yard. The problem was, all the shingles on the side of the roof that I could see were intact. Not a one was out of place.
One day I had to get something out of the driver's side of my truck, and there were pieces of shingles all over the Tacke's yard. I looked at their roof, and everything was fine.
Where could these have come from?
I checked my garage, the side facing the Tacke place. Yep, those were my shingles. The shingle-shedding went on and on. Sometimes, it was so bad I just gabbed the rake and an old snow shovel and went to work.
When the Tacke's yard had more shingles than my garage one morning, I said "enough!"
I called Matt Ransom, the fellow who did the remodeling at the Sun Times' office for an estimate to replace the roof.
A few days later, Matt and his wife, Esther, were on top of the garage, and in a day or two I had a new metal roof.
I, and the whole neighborhood, feel less threatened from flying chunks of asphalt roofing now.
Even though the deck appeared to be usable at first, as 2021 progressed it began to sag more and more. Before long, you had to choose your steps carefully.
Again, I gave Matt Ransom a call. He would take care of building a new deck.
I, and a couple of friends, would take care of the demolition of the old deck.
A large dumpster was brought in, and Joe Large, who also helped with the office project, and Matt McDonald, had the old deck and the skirting off and in the dumpster in two days. And we lessened our environmental impact by recycling. That's right, many of the wooden panels that were the old deck are now serving as a fence around a pig-pen somewhere in the Valley.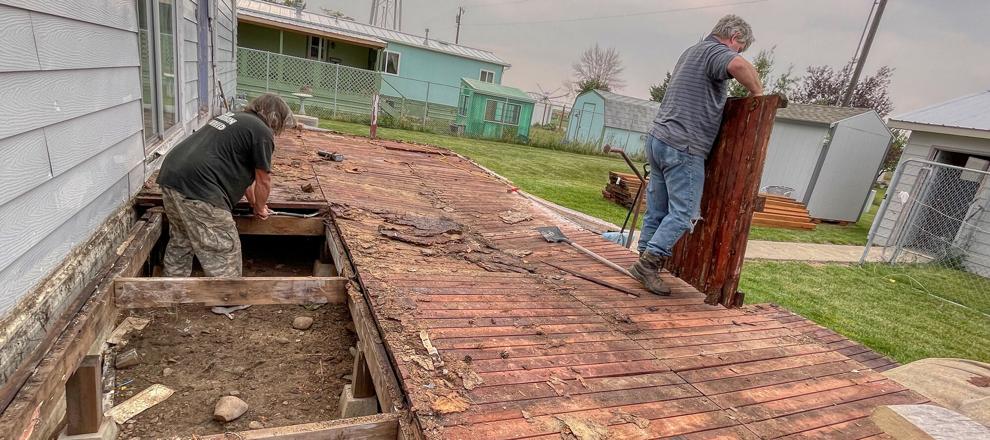 As soon as the old scrap was removed, Matt, Esther and Matt's dad, John, and their three kids were on site and I was getting a new deck. Of course, along the way there were changes.
First up was the old, and I mean OLD, sliding patio door. It leaked air so bad it was as if the door might as well be open. And the glass was so poorly insulated, that ice would form on the inside pane – so bad that often I could not open the door.  When the ice would melt, the water caused some rot in the subfloor.
Out with the sliding glass door! Then it was onto replacing the rotted subfloor and a few other pieces, this time with pressure treated components. Next, a brand new door went up. Then the next problem came. With all that glass gone, that part of my house was like a cave. I had to have light!
So off I go to the building supply stores. I needed a window about 24 inches wide by 60 inches tall. And I needed it fast. No one had what I needed in stock. But at Builder's First Source, the lady I spoke with said I should check their bargain bin outside.
There, in a small fenced in area, was an perfect fit, made by Andersen Windows. But the price tag was about $900. This was one of my rare lucky days, though. Someone had ordered the window, and it didn't fit, or they didn't like it… who knows. Anyway, it was mine for the bargain price of about $129. Sold!
A short time later I was peering through a really fancy window. Ol' Thump was happy, she was tall enough to see through the window, too.
We found the perfect skirting from the folks at Pro-Tech in Great Falls, and they even came up with the roofing metal for the deck. Their skirting was a little too long for my needs, so we just ordered those panels double-length and John Kramarich at Waterjet Cutting Technologies in Great Falls had those panels cut down to size about as fast as Matt and I could load them onto the machine.
Most of the other materials came from Old West Lumber in Choteau.
Thanks to all who helped, and especially to Matt's wife, Esther. You see, there were times when a decision would have to be made. Matt would ask me, "How do you want to do this?" or "What color would work best?" Well, he's the expert, so I would ask what he suggested. Then Matt would say, "I don't know."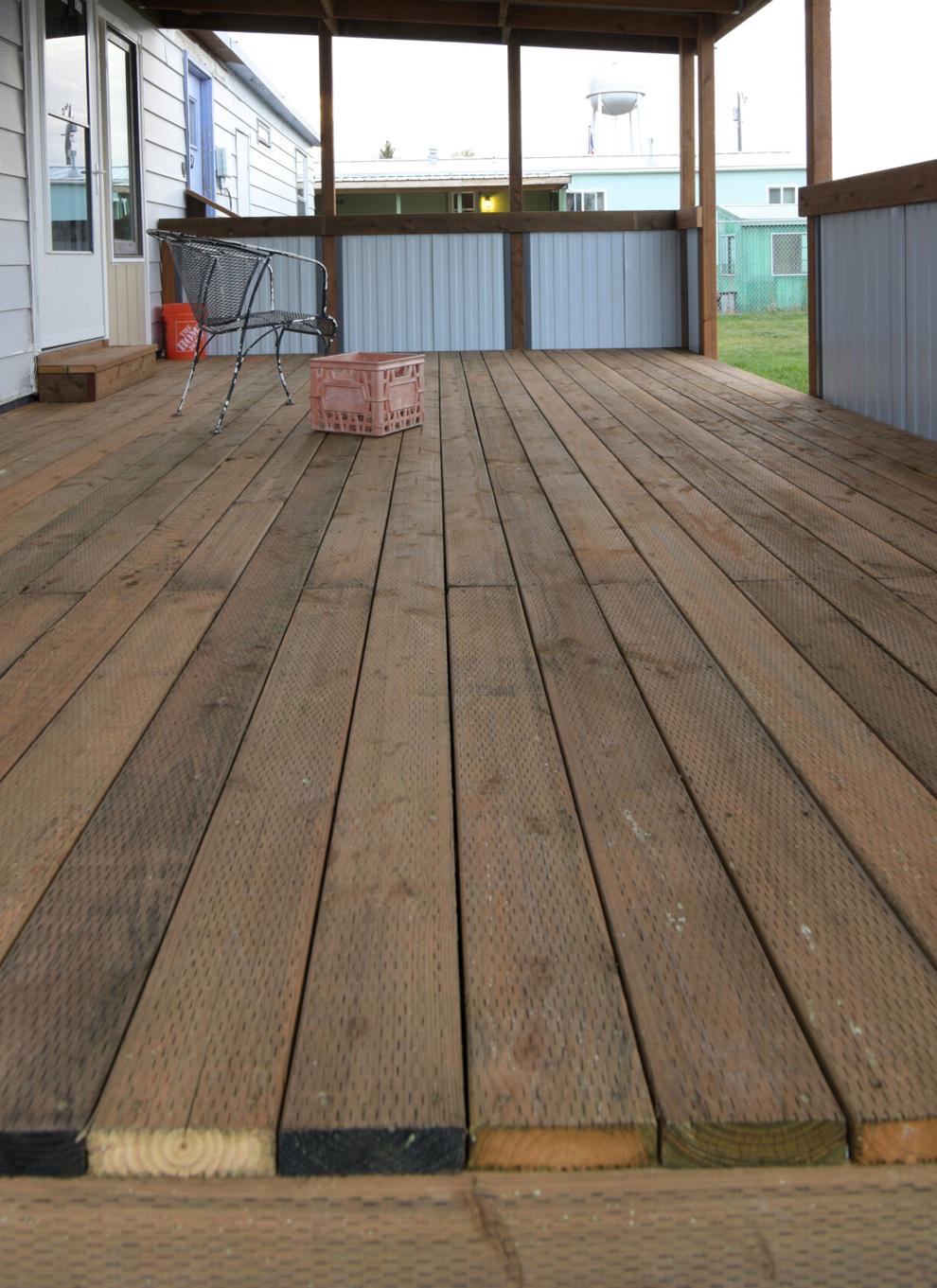 So there we were, in an endless loop of indecision. Then we would consult with Esther. Now, bear in mind that Esther was doing the construction work, too. All while keeping an eye on three young-uns. Remember how it always seemed like our moms had eyes in the back of their head? Yep, Esther is like that.
Thanks, ya'll.