"The hills and river Clifts which we passed today exhibit a most romantic appearance... The water in the course of time in descending from those hills and plains on either side of the river has trickled down the soft sand clifts and woarn it into a thousand grotesque figures, which with the help of a little immagination and an oblique view at a distance, are made to represent eligant ranges of lofty freestone buildings, having their parapets well stocked with statuary; collumns of various sculpture both grooved and plain, are also seen supporting long galleries in front of those buildings... As we passed on it seemed as if those scenes of visionary inchantment would never have and end; for here it is too that nature presents to the view of the traveler vast ranges of walls of tolerable workmanship, so perfect indeed are those walls that I should have thought that nature had attempted here to rival the human art of masonry had I not recollected that she had first begun her work."
—Meriwether Lewis, May 31, 1805
Meriwether Lewis's White Cliffs of "visionary inchantment" mark the start of today's Upper Missouri National Wild and Scenic River, now included within the Upper Missouri Breaks National Monument. This wild and scenic river is remote and accessible primarily to those willing to paddle and camp.
Many people return to paddle this stretch of the Missouri every year. Thus campsites are sometimes full, requiring parties to push on and look for other sites. In comparison to the rest of the world, however, the wild and scenic river is anything but crowded. At peak season, one may expect to see half a dozen groups float by in the course of a day, varying from a canoe or two up to eight or more. This is my second trip through the wild and scenic corridor, having first paddled it nineteen years ago with my kids and then-wife from Coal Banks to James Kipp Recreation Area.
Our Corps of Rediscovery effectively launched upstream at Fort Benton after our three-day layover, camping our first night at Senieurs Reach Recreation Area. Here we were greeted by a friendly camping sign at the river's edge and a welcoming plains cottonwood sheltering a fire ring and grill.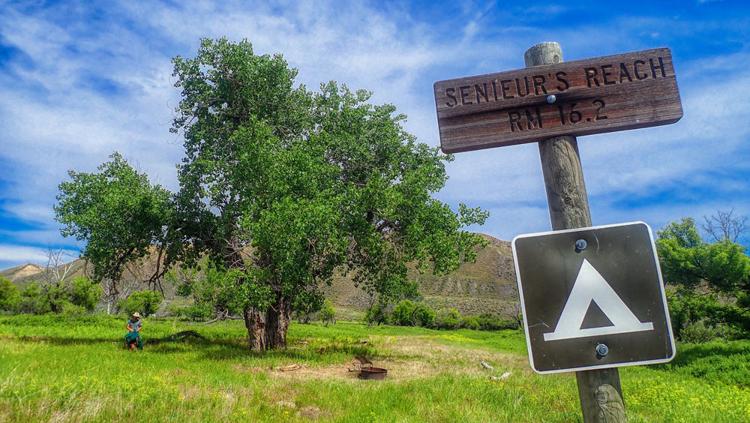 We watched a pair of kestrels feeding their own frantic chicks in a hollow branch of the cottonwood. A turkey hen guided her chicks through the snowberry bushes by camp. I nearly stepped on a spotted fawn hiding in the grass. The shrubby box elder trees were full of house wrens, yellow warblers, yellow-breasted chats, and Bullock's orioles. Every time I turned around it seemed I saw another deer or fawn. We saw two bald eagle chicks in a nest perched high up on a nearby cliff face.
Senieurs Reach is just a scrap of Bureau of Land Management land perched on the riverbank and surrounded by private land, as yet unfenced and unposted, as was most of Montana in my youth.
It was floater friendly campsites like this that inspired my own work on the Jefferson River Canoe Trail. Working with like-minded folks, we identified, scoped, and named isolated parcels of BLM land along the Jefferson, published maps, and have since purchased additional campsites to fill in the gaps. Our most recent acquisition was the 30-acre Lost Tomahawk, named by local school kids after an incident recorded in the Lewis and Clark journals.
Back here on the Missouri, we visited Decision Point at the confluence of the Missouri and the Marias rivers. The Corps of Discovery camped here for ten days to explore and debate which fork was the true Missouri. For me it is also a confluence of memories, having paddling the Marias River exactly one year ago, the maiden voyage and test of Belladonna Beaver the dugout canoe.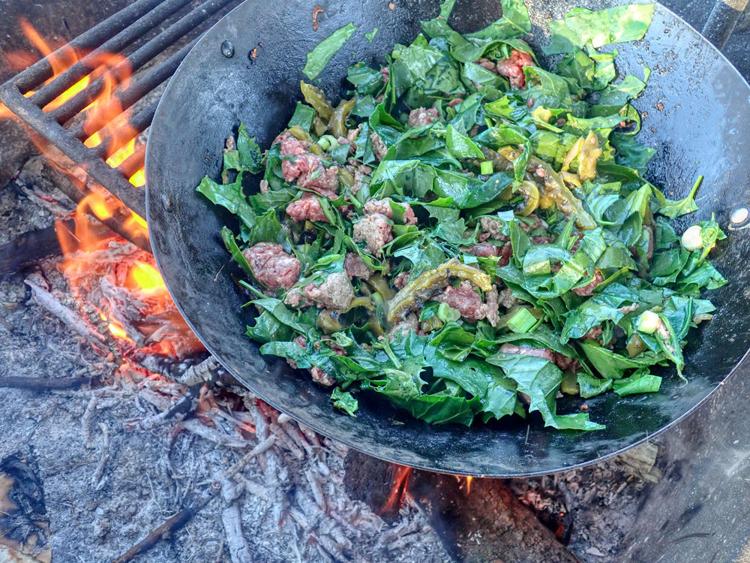 We improvised camp on Boggs Island in one of the few spaces free of deep grass and poison ivy, settling in just before a big storm blew through. Josiah bravely finished cooking dinner under a tarp, and we enjoyed eating and talking there until it seemed that even the tarp would blow away. We collapsed it for the night and ran for our individual tents.
The next day brought us beyond Virgelle Ferry and Coal Banks Landing to camp at Little Sandy Creek, where we slogged through fifty feet of mud to dry ground. Although one should avoid camping under cottonwood trees in wind and lightning, there was little choice there, but wow, that storm was spectacular! Other paddlers later said the storm packed seventy mile-per-hour winds.
Another day in the canoes brought us to the actual White Cliffs and the official start of the Wild and Scenic River. We stoped at Eagle Creek for lunch and hiked to see petroglyphs on a nearby cliff face. Later we camped near Hole-in-the-Wall. Although the hole is in the side of a cliff, the backside is accessible by foot. Every walk turns into a botany walk as we encounter new flowers, here an obvious pea like a milkvetch, but with deeply segmented pods that indicate a sweetvetch instead.
Feral orache grows abundantly on the Missouri. A relative of spinach, the plant has become our preferred green to compliment our meals.
Every four or five days we take a layover day, here at Slaughter River, to take additional time for bird-watching, botanizing, sewing projects, writing, and relaxing, then back in the canoes and the journey continues.
Thomas J. Elpel is president of the Jefferson River Chapter of the Lewis and Clark Trail Heritage Foundation. Look for "Dugout Canoe Paddling" on YouTube to see the maiden voyage of Belladonna Beaver on the Marias River. And go to www.Elpel.info to learn more about the Missouri River Corps of Rediscovery.
Posted at fairfieldsuntimes.com