To know a fiery red-headed gal with a heart of gold and a mind packed full of antiques knowledge is to know Ginger Evans of Rust Girls Estate Sales in Augusta.

Evans has a storied past having owned Lakeside Bar at Hauser Lake, Ginger's Bar in East Helena and Ginger's Saloon in Sun River. Evans operated the establishments, but always had folks bringing things into the bar asking her to buy them; hence was born the ol' bar/antique mall model which she perfected in her bars.
At eight years old, Ginger got her start in antiques the old-fashioned way, digging bottles with her grandpa. Grandpa was an old miner who lived to be 104 years, He carried with him all the secrets to where the old stage stop locations were located which were ideal locations for scouting good bottles and other artifacts. Grandpa emigrated from Ireland and was kind of a gypsy, per Evans.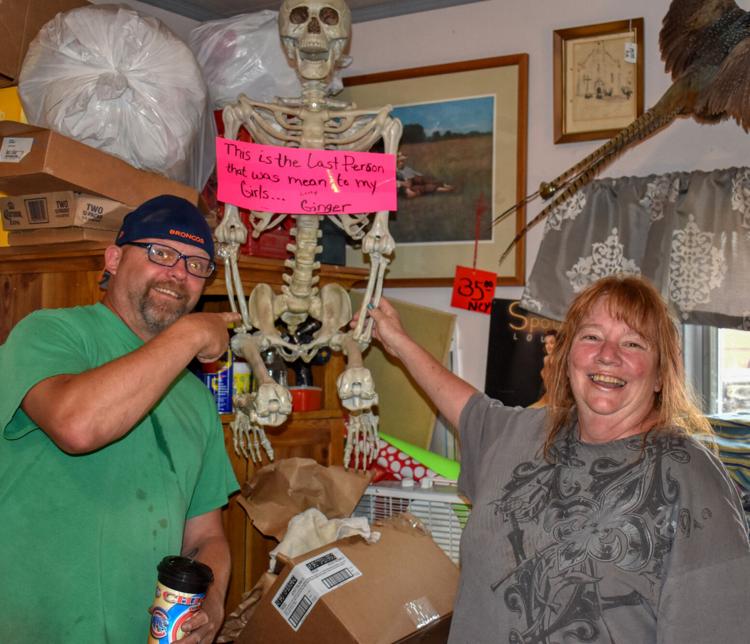 On one bottle digging expedition grandpa kicked a whiskey bottle across a field. He told young Ginger to go get the bottle because it "was going to be worth something someday".  That stuck with Evans and she started to pile up dirty old bottles in her mom's garage. Well mom had less tolerance for the these valuable finds and she told Evans to start getting rid of the bottles. As luck would have it, and fortunately before Evans made a dump run, a preacher friend came by to have a cigarette with mom and he asked whose bottles were in the garage.
Mom shared that they were daughter, Ginger's bottles and preacher offered her $500 for the truckload of bottles and told her  that he would come by once a month to pick up a load at a time at $500 a pop.
Remember, Ginger Evans has a heart of gold, so she shared $250 with grandpa and bought mom her first automatic washer and dryer with the other $250. Needless, to say mom's intolerance of dirty old bottles was squelched.
When questioned on her biggest find, Evans shares a story full of intrigue, timing and men in dark suits. One of Ginger Evan's favorite things to collect were old paintings of women who were risque and often scantily-clad. They were typically pricey purchases, so Evans allowed herself about one of these indulgences a year. One year, at auction she was up against a well-known saloon memorabilia collector, Dr. Bob Neal, from Great Falls. The problem was the doc couldn't attend the auction in person, so he sent a buddy to bid on the painting that Evans had eyed, too. At $95 the buddy was out, so Evans won the painting for $100.
Evans noted that it was marked Asti which meant nothing to her. She just liked this saloon girl kind of art. Evans framed the painting and propped it above the bar. Well, it seemed everyone wanted to buy this sexy old painting and she turned down offers right and left.
One of her customers who came from Billings was a "big time dealer." Evans thinks his name was Mr. Flat. Whatever his name, according to Ginger he was rude and she had no intention of selling him anything. He offered her $3200. Ginger admits she really needed that $3200 but with his poor demeanor she wouldn't part with the painting.
After the lost sale to Flat, she was remembers being asleep in the house she kept behind the bar. Her bartender frantically came over one night and woke Evans out of a deep sleep to let her know there were two cops or lawyers or just intimidating guys in dark suits asking about the painting. Ginger groggily went back over to the bar to see what these two well-heeled men may want. As it turned out, they were representatives from prestigious Christie's Auction House in New York. Apparently, her good friend, Dr. Neal had turned them onto this painting.
Well, the auction pair told Ginger Evans that they wanted to buy the painting. Told her they would give her "3" for it. Ginger replied that she had already been offered "32" for it, so she'd have to think about it. Not deterred, the pair offered her "35".  At some point, after waking up a bit more, Ginger put the decimals in the right spot and realized they were offering her $35,000 NOT $3500! Needless to say, she took their offer and proceeded to pay off all her debt while putting aside the remaining $800 for her staff to take a trip to Lolo Hot Springs. Heart of gold.
About the painting, well it was an "Asti" from Asti Spumante sparkling wine. Asti had for a short while had his beautiful wife pose for posters and paintings. These depictions were short-lived and are quite rare. When Asti picked up partner Spumante he could no longer use these racy images because Spumante had strong ties with the Catholic church or at least that is the lore around these paintings.
Today Rust Girls both picks up estates and consigns about everything from " a half bottle of Windex to high-end antiques".  Evans gets help from Barb Fry, Scott Wallace and other loyal locals. Her cut is only 25% and she is pretty much open from May to September, depending on the year.
Empty the bed of your truck before stopping into Rust Girls Estate Sales at 211 Main Street because you are sure to fill it. Prices are incredible and I am positive Evans has one of everything. Give her a ring at 406-422-8644 if you have something to sell and/or are looking for that special something. While the risque paintings are mostly gone now, there is definitely a treasure worth taking home.