HELENA - Municipal wastewater data from East Helena shows roughly a 20-fold week-over-week increase in the amount of SARS-CoV-2, the virus that causes COVID-19, while Helena's data shows a two-fold increase in the same time period. The results point to a large amount of disease in the community, which correlates well with the current significant rise in local disease identified through diagnostic testing and could, more importantly, indicate many individuals are infected with the virus but have yet to be tested.
Lewis and Clark Public Health officials call for residents of both East Helena and Helena to be extremely careful when out in public and to closely follow established tenets to avoid transmission of the virus. These include practicing strict physical distancing, wearing masks when in public, avoiding gatherings of any size, staying home when sick, and washing their hands often.
"Now is the time to stay home," said Drenda Niemann, health officer for Lewis and Clark Public Health. "If you must go out, make sure you're practicing everything we've learned over the last seven months," she added. "This report shows there's a great deal of virus out there, and we need everyone to take personal responsibility to ensure the safety of the community. With the numbers we are seeing this week, we're extremely concerned. Considering our current high case data, what will the next few days look like?"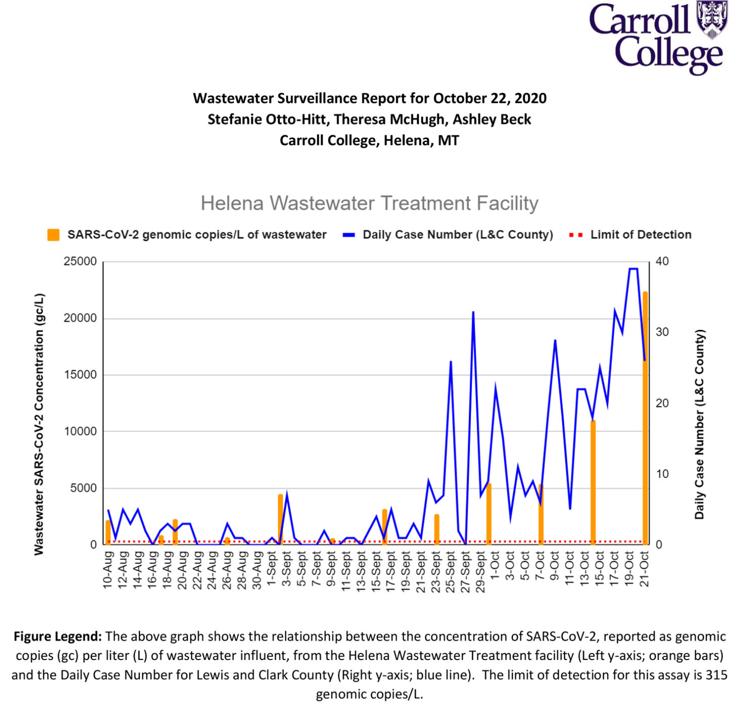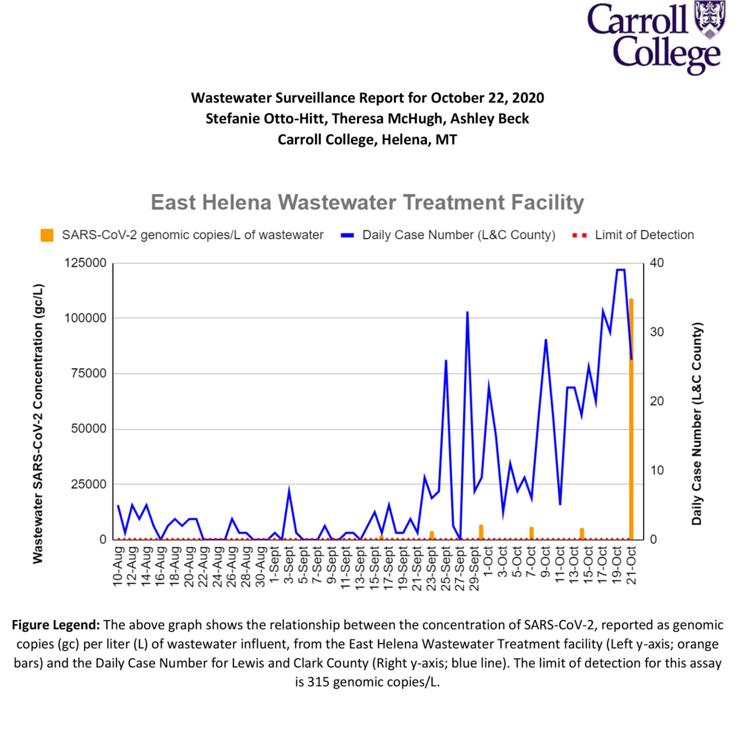 Last week, virus concentrations in East Helena wastewater were measured by Carroll College researchers at approximately 5,000 genomic copies per liter (gc/l) of wastewater influent. Thursdays's report shows about 110,000 copies of the virus per liter of wastewater. Wastewater concentrations in Helena also spiked to 22,000 gc/l, doubling from last week.
In early results, concentrations of the virus in wastewater have been followed by increases in cases in the cities of Helena and East Helena. The data could serve as an early predictor of an increase in cases in the respective communities. Accordingly, Lewis and Clark Public Health has included wastewater testing for SARS-CoV-2 as one of several key criteria to be used in implementing Governor Steve Bullock's phased Reopening of the Big Sky strategy.
For the testing, wastewater is collected by the City of Helena and City of East Helena wastewater treatment plants and delivered to Carroll College on a weekly basis. Carroll College processes the wastewater samples and provides a report to the City of Helena, City of East Helena and Lewis and Clark Public Health.
COVID-19 symptoms may appear 2-14 days after exposure to the virus and include fever or chills, cough, shortness of breath or difficulty breathing, fatigue, muscle or body aches, headache, new loss of taste or smell, sore throat, congestion or runny nose, nausea, vomiting, or diarrhea. Also, be aware of emergency warning signs of severe COVID-19 disease. Individuals showing any of the following signs or symptoms should seek emergency medical care immediately: trouble breathing, persistent pressure or pain in the chest, new confusion, inability to wake or stay awake, or bluish lips or face coloring.
For the most current available data on local COVID-19 cases, view the Local COVID-19 Decision Making Dashboard at www.lccountymt.gov/health/covid-19/local-covid-19-decision-making-dashboard.html.
Preventing and controlling local COVID-19 is dependent on personal responsibility and individual choices that residents of our county can make to protect our community. Lewis and Clark Public Health continues to urge people to do the right thing to protect our community, practice what has been learned over the last few months, such as physical distancing, wearing a face covering, avoiding large gatherings, washing hands, and sanitizing surfaces to protect ourselves and others.
If you have questions, please call Lewis and Clark Public Health at 457-8900.