Augusta has a new game warden in town. Meet Jake Barzen, originally from Wisconsin who has been in Montana for about 3 years and began his stint in Augusta the third week of October. Barzen's direct responsibility is from Fairfield to Highway 200 to Bowman's Corner and then the Divide, but in Montana a warden has jurisdiction across the entire state.
A warden's job is more multi-faceted than just handing out citations to poachers. Barzen's role is to enforce game laws, but he also works with private landowners to provide hunting to the public. Barzen assists owners whose land has been damaged by hunters, too.
Barzen tags fur for harvested bears, lynx, otters, bobcats and wolves, so they can be legally possessed.
To monitor populations, Barzen will pull teeth on mountain goats to get their age. The age of a goat is crucial determining population dynamics. The age and location of where a goat is harvested is used to determine numbers and if the numbers are increasing, more tags are issued. Barzen asserted that nannies are slow to reproduce; becoming sexually mature at the advanced age of 3 and not producing a kid every year, so it is crucial to have a good handle on population size.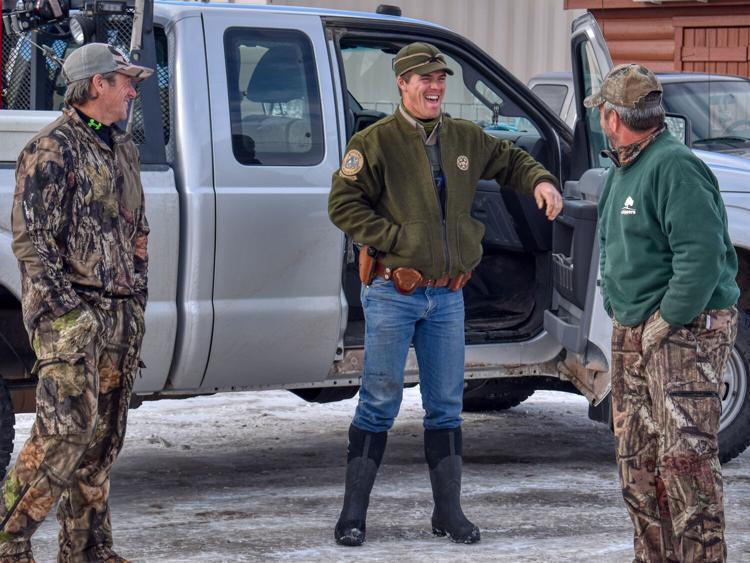 The game warden position is 12 months out of the year. In the winter Barzen contends with trapping, snowmobilers and in the summer he goes into the back country and does a lot of search and rescue and fishing enforcement.
Snowmobiling infractions involve reckless driving to driving without a registration. Traveling on groomed trails without a permit also invites a citation. Maps of groomed trails are available or common sense will indicate a groomed vs ungroomed trail, too!
To enforce fishing laws, Barzen has access to a boat and can also can monitor compliance from the shore. He can also ride in on a horse and check on activity around more remote streams and lakes. Fishermen get in trouble for mostly fishing without a license or taking more fish than legally allowed.
He doesn't see a lot of lawlessness around Augusta. Most of his job involves hunters hunting on private land without permission and going to retrieve an animal on private ground, and hunter's shooting from the highway which is prohibited. Reading a tag incorrectly and misunderstanding a regulation are also common mistakes hunters make, too.
Barzen says if a hunter accidentally shoots more than he is allowed to, he should call and discuss it with him, not try to hide it. Barzen can be reached on his cell (which is expected to change in the next couple weeks) at 406-860-7796.
Barzen's day is always different, but usually involves patrolling and responding to calls. These calls are often generated by the public reporting system by calling 1-800-tipmont (1-800-726-3953).
A game warden is a full-fledged law enforcement official who attends the same academy as policemen and women.  While not offered to this reporter by Barzen, research appears to show that Barzen was an all-star at the academy earning himself three coveted academy awards.
KRTV reported Barzen honored with three esteemed awards: the Don Williams Award which designates the recipient as the class representative, the Health and Physical Fitness Award and the Paul Williams Award which goes to the officer who provides inspiration and displays dedication and determination. Sounds like Augusta pulled the long straw again with this impressive guy and his commendable record.
Barzen states, "I love Augusta. I really look forward to meeting the people." The sentiment is mutual for local Augustans who support law and order, healthy wildlife populations and keeping people safe, too.