The tidbits of "good" news have been few and far between since the COVID virus landed on our shores, but one surprising result is the increase in pet adoptions from shelters.
"It's nationwide," said Terrie Nylund, who serves as Co-Director of Bright Eyes Care and Rehab, Inc. Terrie serves with Co-Director Darolyne Holland.
Nylund and Holland told the Sun Times that Bright Eyes only has one dog available for adoption, along with several cats.
According to Nylund, when the virus hit and people were forced to stay at home, people had the time to spend with pets.
Nylund, who is originally from Ohio, moved to Choteau from Great Falls with her husband, Steven, in 1986 when the couple acquired the hardware store in Choteau.
Before long, Nylund was volunteering one day a week at the Great Falls Humane Society shelter. At the time, said Nylund, "There was nothing in Choteau. People would ask me to take animals to Great Falls, and I saw how many animals were going to the shelter coming from Teton County. They would call and say that they had 'found a stray;' 'I can't take care of…'"
Bright Eyes Care & Rehab Center, Inc., came into being as a 501(c)3 in 1999. Local animal lovers and landowners Jim and Barb Arensmeyer donated two acres for the facility. Then they donated another acre, bringing the total to three.
By August 2005, through fundraising and a lot of "sweat equity," Bright Eyes had erected their building east of Choteau.
"There were no grants available at the time," said Nylund. "We had bake sales."
While not sure about the exact size of the building, Nylund and Holland estimate it to be about 2,500-3,000 square feet.
The layout for the building is Nylund's vision.
The facility has the capacity for 12 dogs and 22 cats. Over the years Bright Eyes has cared for a turtle, duck, chicken, mini-poodle, bunny and a Golden Eagle. The cared for the eagle until staff from Montana Fish, Wildlife and Parks could arrive.
Bright Eyes is a no-kill shelter. The longest they have kept an animal is for six years, a dog with special needs.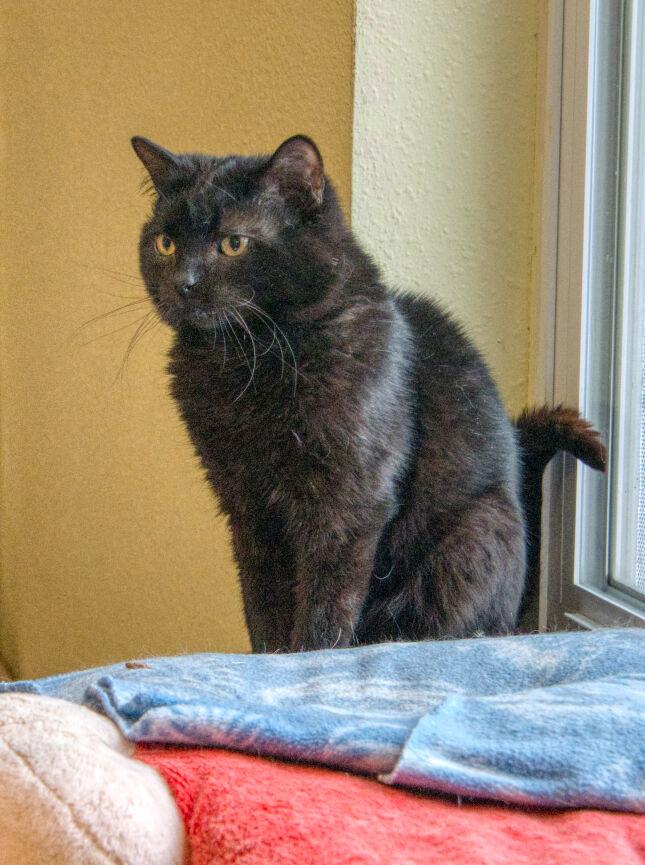 On the day of my visit, they have about a dozen cats in the shelter, and one of them, Duncan, has special physical needs. The mostly black cat appears healthy and is the friendliest of the bunch. He jumps up on some of the cat furniture in a room with other cats and reaches out his front paws and stretches out his "fingers" just as wide as he can, just begging for attention. And he gets it.
There were quite a few rooms with cats on this day, and every room was absolutely spotless.
There were three dogs, but two belonged to Darolyne who had brought them into work with her to give the lone tenant, Sage, some company during the day.
The cats were well fed and seemed to be enjoying their stay, as well as each other's company.
The three dogs, well they had to say "hello" to the stranger with some barking and wagging tails. The barking quieted down quickly.
The dog area, and all of the other parts of the facility, were also spotless.
But there is more to the Bright Eyes that cat rooms and kennels.
When an animal comes to Bright Eyes, unless they know the medical background of the animal, it will go into the exam room. A basic checkup is performed and the animal is vaccinated, except for rabies, which must be administered by a veterinarian.
There is a treatment room where the staff will clean ears, trim nails and doctor wounds.
For cats and kittens coming into Bright Eyes, after they are examined, they will go into the Feline Isolation Room. The cats and kittens will stay in this room for five days. During that time the staff will observe their behavior and give any administered vaccines enough time to become effective. It also allows Bright Eyes to feel certain that the new arrivals do not carry anything contagious to the other cats.
There is a Kitten and Adolescent Cat Room where young cats and kittens are isolated until they have been spayed or neutered at about five or six months of age.
There is also an Adult Cat Room.
Just as with the cats, there is a Canine Isolation Room. All dogs and puppies are isolated and observed here for five days.
Once the dogs are known to be healthy, vaccinated, spayed or neutered and do not show evidence of aggression, they are moved to the Canine Adoption Hall. These are roomy kennels with access to outside pens.
Bright Eyes also has a visitation room, complete laundry and dog shower.
Weather permitting, the cats, too, are able to access an outdoor play area.
The annual price tag to operate Bright Eyes comes to about $92,000. A large portion of that comes from out-of-state donors who visit the state. Even though adoptions rose during COVID, donations dropped 60 per cent, according to Nylund.
Bright Eyes benefits beyond handling pet adoptions. For four years the organization has held Feline Spay and Neuter Clinics. This year's clinic will be held on Saturday, May 15 at East Slope Vet Clinic in Choteau. For details, see advertisement in this newspaper. In 2019, 84 cats and kittens were spayed or neutered.
These clinics are open to residents throughout Teton County, and from Augusta to Valier.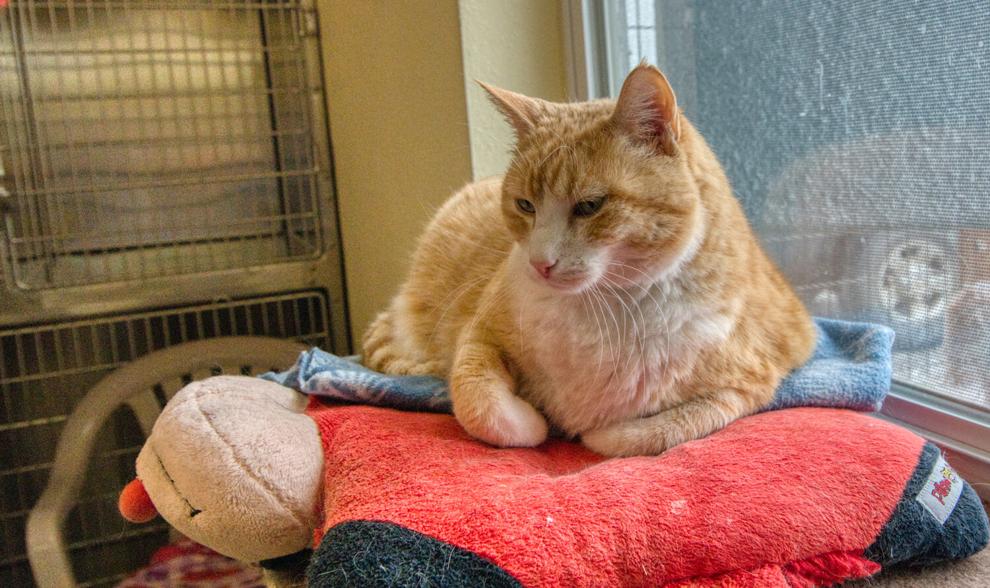 For dog owners, Bright Eyes offers assistance to cover the cost for spay/neuter for dogs.
Both Nylund and Holland have lengthy experience working with animals at Double Arrow Veterinary Clinic.
Darolyne Holland grew up in New Hampshire, and moved to Montana in 2001 and arrived in the Sun River Valley in 2005. She still resides in the Valley, and have been with Bright Eyes for a year.
There are two volunteers who help, but one of the co-directors are on hand during regular hours.
For those wanting to check out the dogs and cats at Bright Eyes that are looking for a permanent home, they can go to www.petfinders.com
If you would like to participate in some of the fundraisers conducted by Bright Eyes, they offer quite a few opportunities over the year. On July 4 in Choteau, they will have their Fourth of July Bake Sale in the park. They will provide information on Bright Eyes and will have adoptable pets at the park.
In August, Bright Eyes will have their "Pennies for Pets." They will set up at Rex's Market and collect change. According to Terrie Nylund, some supports save up their coins all year for this fundraiser.
In September, Bright Eyes plans to hold an open house. This is not so much as a fundraiser, but a chance for people to check the shelter out and enjoy a free luncheon. During the open house, Bright Eyes puts on "Paw Prints on our Hearts." Using animal-safe paints on your dog's paws, they have your dog walk across a canvas, leaving their paw prints. You can take the canvas home and have it framed.
To raise funds for the feline spay/neuter clinic, Bright Eyes used to put on their Spayghetti and Neutles Dinner. Last year, the event was canceled due to COVID. The dinner has been rescheduled for this fall.
Supporting annual memberships are available, starting at $10 for an individual and topping off at $500 for a lifetime membership.
From 2001-2018, Bright Eyes Care & Rehab has reunited 663 pets with their owners; performed 1,651 spays and neuters; helped with adoptions of 722 cats and 641 dog adoptions and assisted adoptions. An adoption assist is when Bright Eyes is contacted by a pet owner looking to find a new home for their pet. Bright Eyes will work to find a good home for the pet.
If you are in the grocery or at Sam's Club, think about Bright Eyes and put a little extra in your shopping cart. Terrie and Darolyne told the Sun Times they can always use paper towels, laundry detergent, Dawn dish-washing detergent, bleach, toilet paper, dog chews, kitty toys and unscented clay cat litter.
For more information, contact Bright Eyes Care and Rehab at (406) 466-2100, or email them at brighteyes@3rivers.net. Their office and shelter are open Tuesday through Thursday, 8:00 a.m. to 4:00 p.m. and on Saturday and Sunday from 8:00 a.m. until 2:00 p.m. The shelter is closed on Monday and Friday.