HELENA – Two Montana Army National Guard Soldiers recently competed in a Cold Weather Survival Training event at Utah's Camp Williams, to enhance their cold weather and personnel recovery skills.  Sergeant's Jake Balliew of Townsend and Brett Garber of Lewistown, both members of the Montana Army National Guard's Charlie Company of the 1-189th General Support Aviation Battalion, competed in the event and finished 3rd out of 11 two-man teams.  The C. Co 1-189th team finished 3rd overall among 8 Special Forces teams and were the only participating team that did not come from a Special Forces Group.  The training is germane to the C. Co. Soldiers, as the unit is a medical evacuation and personnel recovery oriented unit.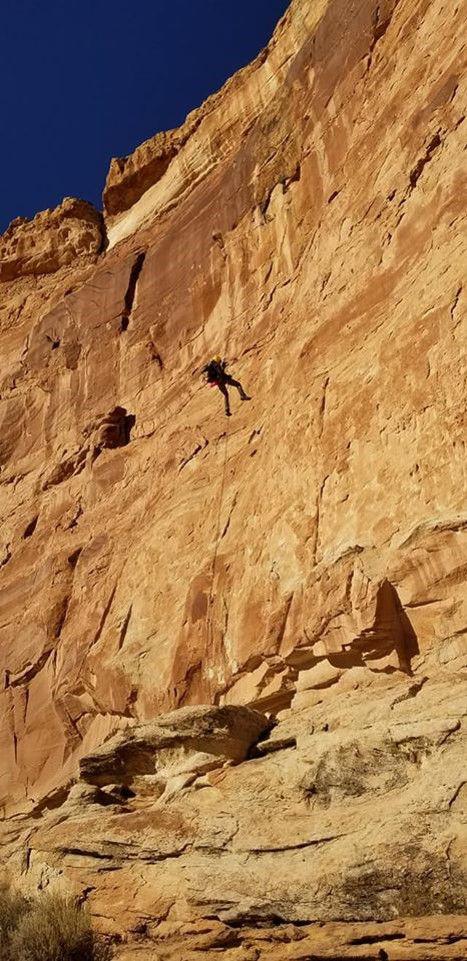 The focus of the Cold Weather Survival Lane, held Oct 31st – Nov. 3rd, is long-range navigation, personnel recovery, and high-risk capture evasion. This training event was hosted by the 19th Special Forces Group. C Co. 1-189th received an invite as a result of the unit supporting 19th SF Group in prior training events in Montana. The tactical lane covered 123 miles over three days, 27 miles of those were over water, with an average night temperature of 22 degrees.   Participants were expected to cover roughly 9 to 12 miles in a given leg in order to reach water/food caches and also to reach various extraction points along the course. A number of obstacles were placed in the way of the participants including 200 foot rock faces that Soldiers were expected to negotiate via rappelling, in order to continue on to the next leg of the lane.
"This was a high caliber training event that afforded some of our aircrew members to further develop their skills in the task of Personnel Recovery operations. They will additionally be able to share knowledge and experiences to enhance the unit's overall readiness when they conduct their annual Personnel Recovery refresher training," stated Colonel Jamie Wilkins the MTARNG State Aviation Officer. "Our team did exceptionally well and left a very positive impact among the 19th SF Group."  
The team did so well, it has led to an invitation for a second team from the 189th to participate in the March 2020 Cold Weather Survival Training Event. The 189th has identified CW2 Ray Root and SSG Casey Mills to participate as the next team to come from C Co. 1-189th.  The two Soldiers have already started to train for the event.