All of us who call Fairfield, Montana home understand why Fairfield is such a great place to live or visit.
But if you are a high school graduate and you made a list of places to visit for your graduation trip, Fairfield would probably not be top on the list.
It wasn't on top of CJ Wiggins' list, either. But the COVID pandemic changed his plans.
CJ, who just graduated from Pleasant Grove High School in Utah had planned on visiting Hawaii. Then COVID struck.
Looking for something for the kids to do this summer?
When CJ was a junior, he tried his hand at pottery.  "I instantly fell in love," he told the Sun Times. He took two pottery courses at Pleasant Grove. The classes, "Ceramics 3," were the most advanced offered at the school.
CJ's dad, Evan, had also studied pottery at Timpview High School in Provo, Utah and was taught by Fairfield's Andy Watson.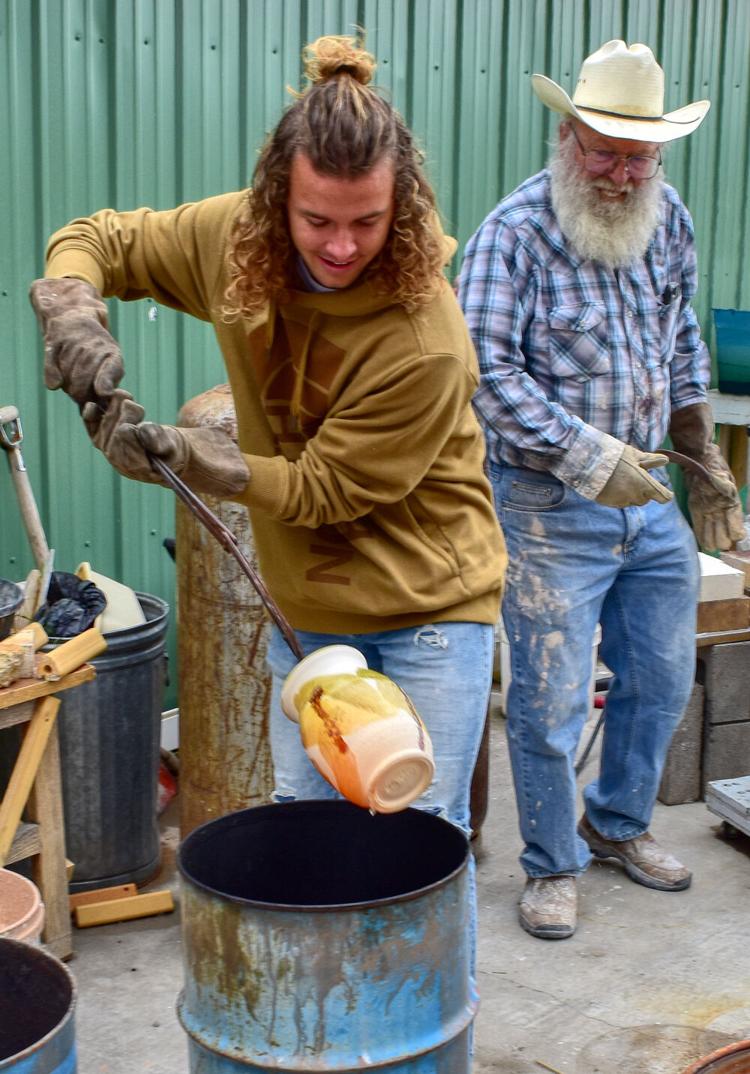 When COVD upset the plans for the Hawaii trip, CJ said he was at first "… bummed, but when my dad pitched his idea (of coming to Fairfield to study with Andy Watson) I was immediately on board! So, getting to travel with my dad all the way to Fairfield Montana was amazing. He always does whatever he can to support me and give me amazing situations to learn in. Andy is a master potter and I am so grateful to be able to study under him!"
CJ says his dad didn't stick with pottery, but "he has always loved it." "Once I started getting into it he shared his love for it with me and occasionally comes out and throws his own pieces. He is such an amazing supporter to me and I'm so grateful for that!" he added.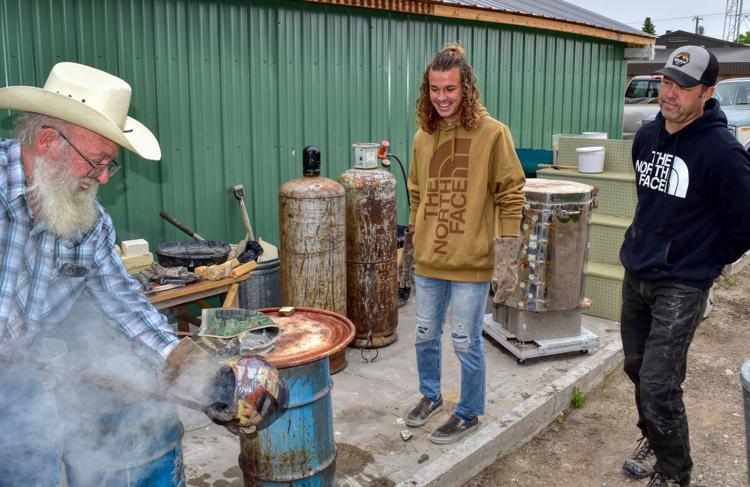 Asked what it is about clay that stirs his passion, CJ said, "I love the capability to turn a ball of clay into something that portrays a story, something functional or something inspiring. It's so amazing to be able to start with a blank canvas and create anything your mind can come up with"
When CJ and his dad arrived at Andy's studio, the teaching had already started, according to CJ. "When we first arrived, Andy had written a note portraying that his vocal cords weren't working at the moment, but he could hear fine.  He went on to use hand gestures to show us around the studio and unload some kilns. After about thirty minutes he began to speak, and we all had a good laugh.  It was a great lesson because it showed me that life isn't always what it seems, and we are quick to change our behavior when it isn't necessary. Although his hearing was perfect, we resorted to hand gestures while we talked because our subconscious thought it was necessary."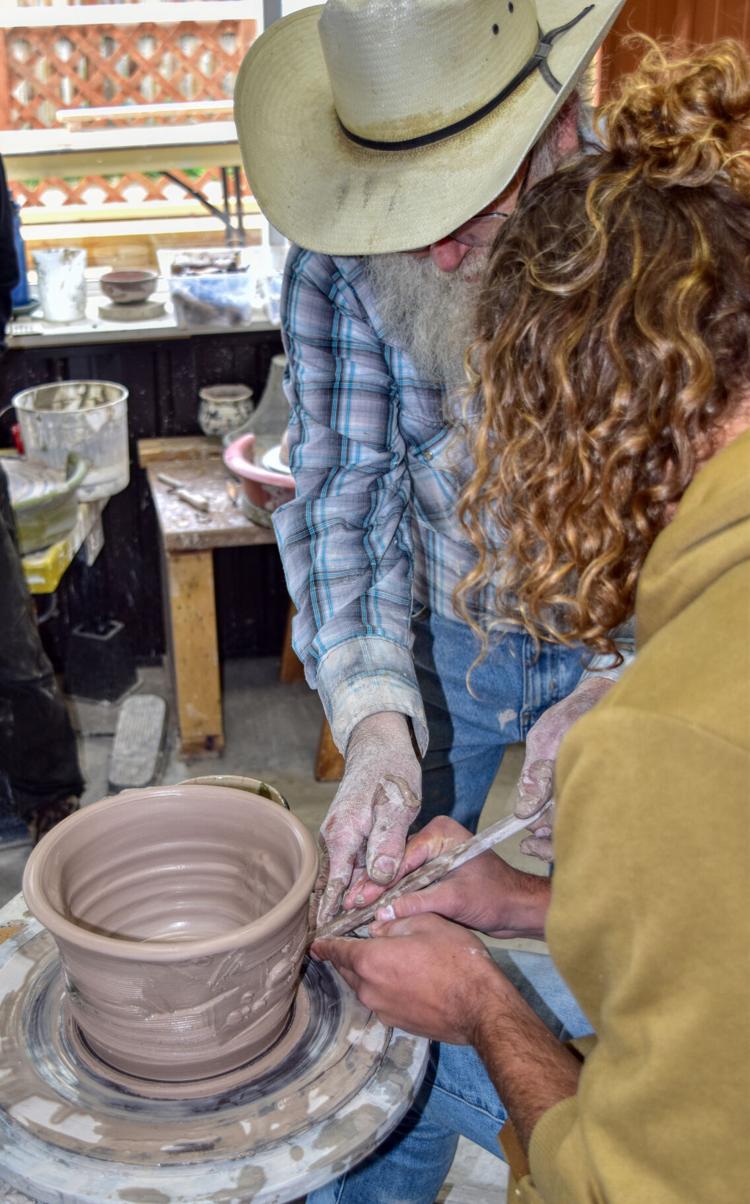 Watching Andy, CJ and Evan take their pottery out of Andy's kiln, it was hard to know who was most excited. Andy and CJ both smiled as the finished creations came out of the fire, but Evan had the added emotion of a proud dad.
Of his experience at Big Sky Pottery and Art Gallery, CJ told the Sun Times, "Like wow.  Andy is a true inspiration." CJ continued, "In just a matter of two days he was able to influence my pottery career in ways I never imagined. I am so thankful for his commitment to helping anyone willing to listen!"
Of the Fairfield community, CJ said, "Fairfield is an amazing place.  I learned that life can get crazy sometimes, so it's nice to be able to slow down and enjoy the little things in life a lot more. I come from a much larger town than Fairfield, but I enjoyed seeing the community come together and help one another out. Lastly, I loved the simplicity of a small town, you don't need much to live and sometimes we get caught up in temporary things to make us happy, rather than real meaningful things."
CJ expresses his passion for clean lines and clean vessels in his pottery. "My pottery portrays symmetry." Now he plans to expand his style and apply the new techniques he has learned from Andy Watson.
Back home in Pleasant Grove, Utah, CJ has created his own studio. His dad told of how he missed seeing some of CJ's work when a piece was sold, of how when he noticed a piece was no longer sitting on a shelf, he asked CJ if it had been sold. Evan said that when CJ said the pottery had been sold, he laughed and said he "felt like it was ours."
CJ plans to continue his pottery and business studies when he attends Utah State University Eastern. He will also round out his college experience on the soccer field.
If you are interested in buying CJ's work go to www.thegrovepottery.com
You can also check out his work on Instagram and YouTube @thegrovepottery