It's hard to nail down the exact date that the former Bynum State Bank building, now home to JD's Wildlife Sanctuary II, became a tavern.
In the Sanctuary, you can still see the original bank vault, a reminder that the building once house the Bynum State Bank, which failed during the depression in 1934. As a matter of fact, you can't miss it. The bank went out of business during the depression. In 1934 three Teton County banks closed due to "the small volume of business," reported the Great Falls Tribune. The Power State Bank discontinued business on October 27; the Bynum State Bank accepted no deposits after November 1 and Choteau's First National Bank, as reported in the Tribune of November 7, 1934, "is making arrangements to end its affairs."

On May 18, 1950, the Fairfield Times reported that two new members had joined The Teton Tavern Association, saying, "Two new members were admitted. They are Emil Bakke, new partner in Les' Bar at Power and Les Malcum, of Fort Benton who recently purchased the Bynum Bar.
About a month later, it was reported in the Great Falls Tribune that A.L. Mulkins, formerly of Fort Benton, "has taken over the Bynum tavern." The brief article also mentioned that a "Complete remodeling has been done by the new owner."
And then came Katy.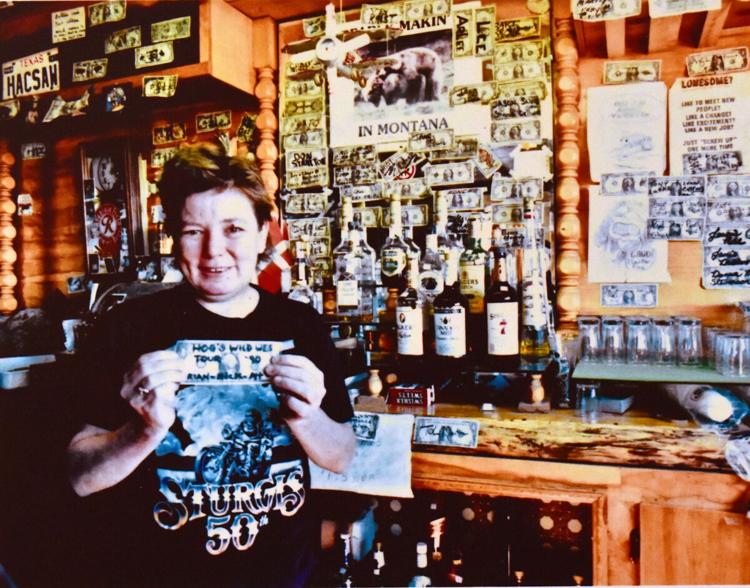 Freda Margarita Stone was born in Sherman, Texas in 1949, the third child of Dorothy Mae McKinney Stone and Thomas Hardy Stone. Both parents were legally blind. Katy married young and after three children, she went back to school and earned her high school diploma. Later, she legally changed her name to "Katy"
Katy went to work at a ceramics plant in Pearland, Texas. In the eighties she took over – and made famous – a roadhouse in tiny Liverpool, Texas that she had named "Rebel's Den."
In the mid-eighties Katy lost a leg as the result of a motorcycle accident. It was about then that she decided to act on a lifelong dream and visit Montana. In 1986 she took over management of the Bynum Bar from owner Marvin Schock. A short time later she purchased the bar and changed the name to "Katy's Wildlife Sanctuary," taken from a song by Moe Bandy about a tavern in Texas.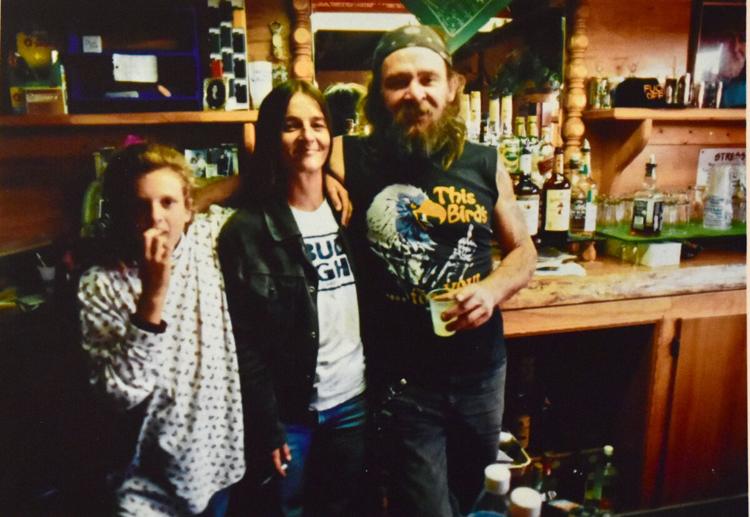 Under Katy, the Sanctuary flourished. A story about Katy appeared in the Los Angeles Times; the bar was featured in a magazine out of Munich, Germany and Katy was featured in a nationally aired segment of "Everyone has a Story" on CBS.
By 2001, the pain from her injury sustained in the motorcycle wreck forced Katy to sell the bar to Jerry Jones. Katy eventually moved to Choteau and passed away on March 18, 2009.
Since then, the Wildlife Sanctuary has seen a series of owners. But there is a different feel to the place now, one that would make Katy proud.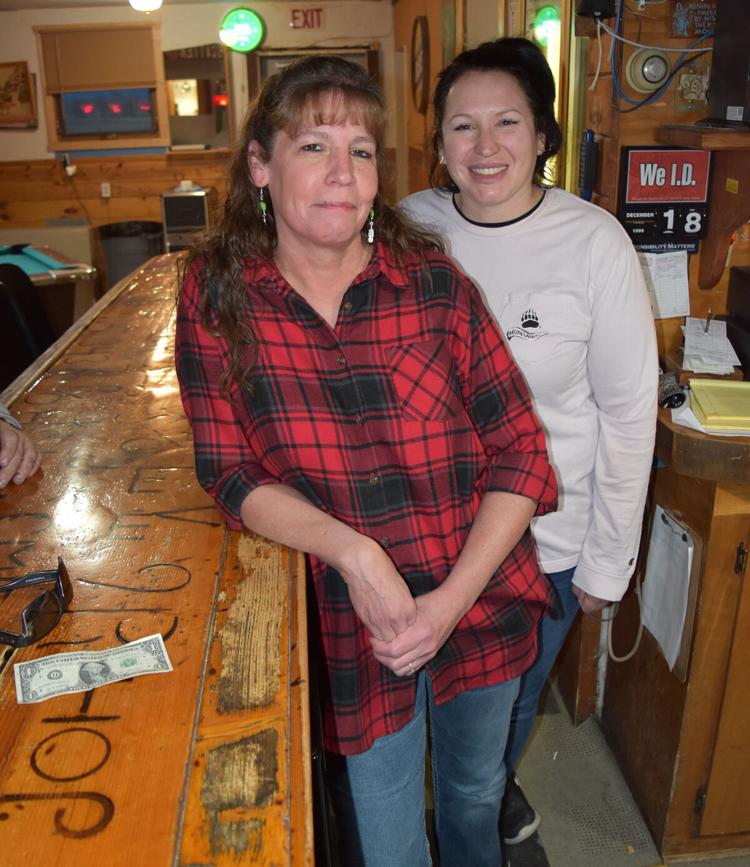 Lisa Lindgren, who readers will remember from Augusta and Jonna Beattie, who came to Montana from Oklahoma as the result of her career in the Air National Guard, recently acquired the bar, or as they call it, "the community hall" of Bynum.
The pair got all their paperwork settled and fully took over the bar on December 3, 2020. They told the Sun Times it took a while - due to COVID, the time to process the paperwork dragged on.
When asked what the biggest change was at the bar now that they have taken over, both replied, "Cleaner!" They say that the other changes are more consistent hours and a desire to make the tavern a more comfortable spot. Lisa brings experience at the stove – she used to cook at the Lazy B in Augusta and her first bartending gig was in Augusta ten years ago.
The new hours are from 11 am to 10 pm, due to COVID restrictions. They are closed on Mondays and on Thanksgiving as well as July 3rd and 4th.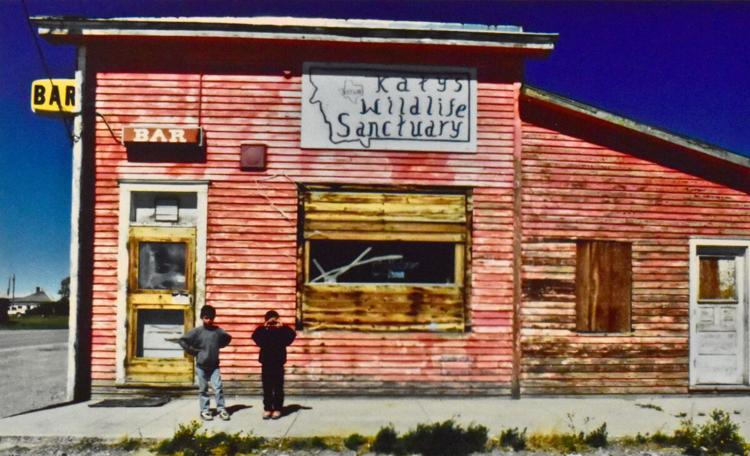 Locals and people from the area are coming to the bar, and on a weekday evening almost all the seats at the bar are filled with mostly Bynum folks. The new owners say that local kids want to come to the Sanctuary for their birthday parties instead of going to a pizza joint in Great Falls.
The menu features two Sanctuary burger creations, the "Yolk" and the "Rotten." The Rotten Burger has pepper jack cheese or Swiss, with sauerkraut, raw onion, fried onions and either thousand island or blue cheese dressing.
Wednesday nights are taco night and the third Wednesday each month is Indian Taco night. The last Wednesday of the month features chimichangas.
Fridays are steak night, with rib eyes being the special and Saturday night the special is Road Kill Ribs, aka baby-back ribs.
If you've enjoyed one of the Sanctuary's great steaks in the past, you'll be glad to know that weather permitting, they still cook them on an outdoor grill.
Both Jonna and Lisa say that the response and support from the community has been "awesome." They add that a few more changes are in the works with a goal to make it a family-friendly place to eat. And they are hoping that before long COVID will decline and things can return to normal so they can feature live bands.
In 2019, seven bands were on hand in late July for the Sub Rosa Weird Fest. There were 350 people on hand for the weekend concert, traveling from Washington, California and from across Montana.
Lisa and Jonna are pleased to have heard from a customer from Minnesota who was glad to see that the Sanctuary is in good hands.
In the Los Angeles Times of July 5, 1992, Judith Morgan wrote of Katy's Wildlife Sanctuary, "Katy's is a bar – the bar for miles around. It preserves nothing but good times." Katy also shared that Texas and Montana share drinking habits, telling the reporter "There's a lot of call for beer and bourbon. And not much demand for Chardonnay."
Last summer, Brian Lambert of Minnesota stopped in at the Sanctuary for a visit.
It was not his first time there.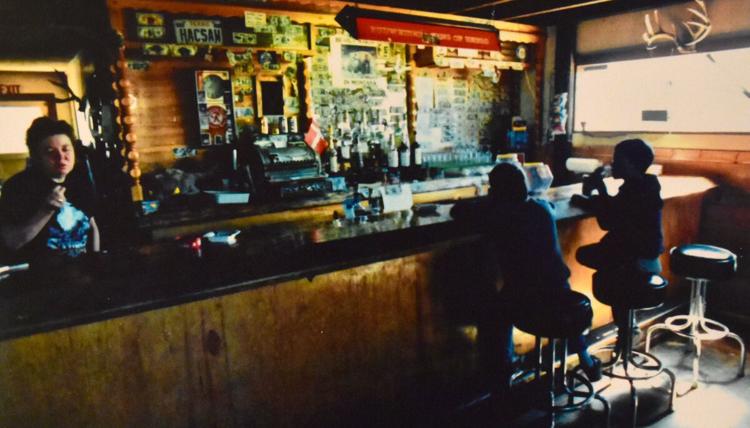 From about 1988-1993, he and his two sons would take a weeklong cruise through the Treasure State. Katy's was a regular stop.
She was friendly enough, Brian told the Sun Times. "You could tell life had been tough. She always had kind of a grin.
Brian said that Katy seemed to do a good job at running the place, although they would stop by during the day, not exactly peak hours for most bars.
He said that when he visited in 2019, it looked like the place had already been "spiffed up" quite a bit.