The Augusta Senior Pro Rodeo (or the "old timer's rodeo" as Augustus Lee the kid helping out dubbed it) arrived in Augusta at The American Legion Fairgrounds to compete last Friday, Saturday and Sunday.
Typically this rodeo precedes The Augusta Rodeo, but this year the event kept getting postponed, waiting for the border to open to bring down a mess of contestants from Canada. The border is still not open, but the show went on with four different rodeos over the three days.
Long-time local and native Kent Mosher is the catalyst behind the rodeo coming to Augusta, for the last  6 years. Mosher himself competed in all events as a youngster, then went to steer wresting and calf roping after college. When Mosher turned 50, he got back into rodeo with those his own age group. He says, "It is the greatest place to be able to do things you love to do" and with people you want to compete with in your own age group.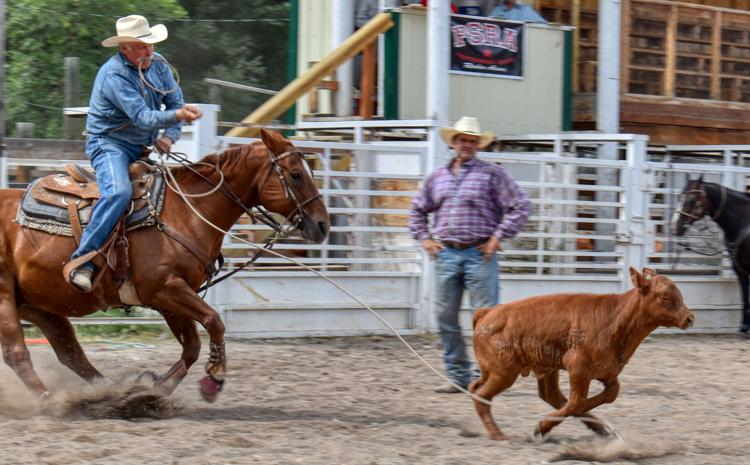 This year we saw Ribbon Roping, Calf Roping, Breakaway Roping, Team Roping and Barrell Racing. Other years have included an expanded number of different events, but with fewer cowboys and girls able to make the trip, the offerings were narrowed down for 2020.
This weekend's announcer Curt Rasmussen comes from a long line of well-known announcers, clowns and competitors. When asked about the Senior Rodeo Rasmussen said, "I love it; although it was smaller this year. Senior Pro a cool rodeo to be a part of."
Rasmussen adds that the Senior Pro is like a band going out on tour. The contestants travel, camp together, share potlucks and have a good time rodeoing. Most are retired, so don't rely on the prize money.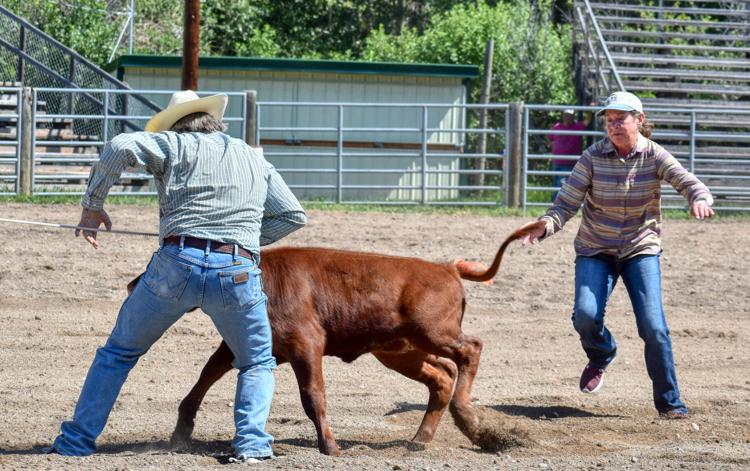 Age categories are 40, 50, 60 and in a couple events: 68 years and older. Mosher says they typically get contenders up to age 80!
This week had locals Mosher, Dan Levine and Jeff and Pauline Robertson "holding their own", according to Mosher. Cash prizes were awarded this year, but in typical years, prizes can include buckles and saddles.
As you would expect, the senior rodeo saw more cowboy hats covering grey and thinning hair and cowboys were donning relaxed fit over tight fit Wranglers! but I saw no lack of enthusiasm and intensity. These men and women really went after the win with much of the spirit they carried in their youth.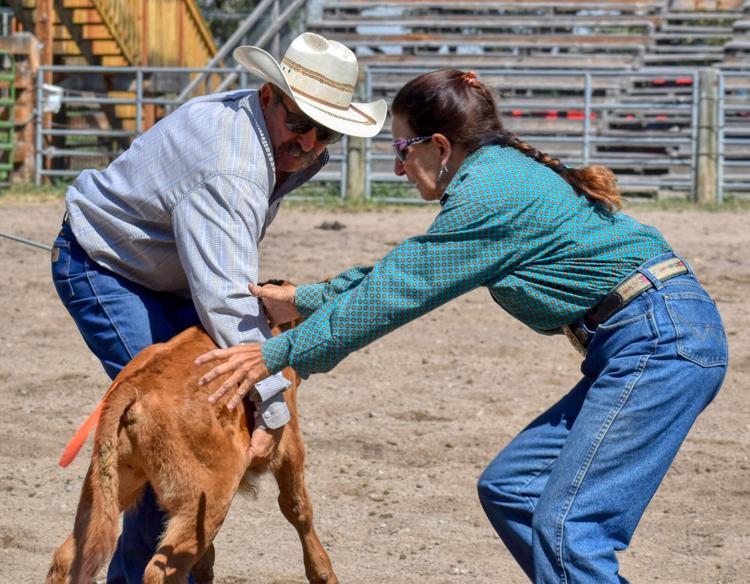 When asked Mosher how he felt this morning, he replied he had a few bumps and lumps. I queried him on whether he would be battling when he is 80 years old. Mosher chuckled, "That would be a good goal".
Based on what I saw over the weekend, there is more than a handful of locals and others who will be out entertaining the crowds and bringing home shiny belt buckles for the next several decades even up to  when the Augustus Lee, the kid helper becomes an "old timer" himself.