Late last week Fairfield artist Diane Hausmann stopped by the Sun Times office to take care of some paperwork for The Fairfield Historical Society. Diane serves as Secretary of the organization and sits on the Board of Directors.
As we chatted, the conversation naturally meandered to the subject of how we were passing our time during the Coronavirus pandemic. Diane said that the Front Range Art Association, of which she is a member, was engaged in an undertaking known as "a painting a day."
According to Diane, a painting a day is as simple as it sounds. Artists undertake creating a different painting every day.
But this was different. The artists were asking for donations of at least $50.00 per painting to be donated to the food pantry of the donor's choice. For those donors who live away from the artist, there is also a small shipping fee.
As Diane explained the process, she pulled out her cell phone to show me photos of the paintings she had already created.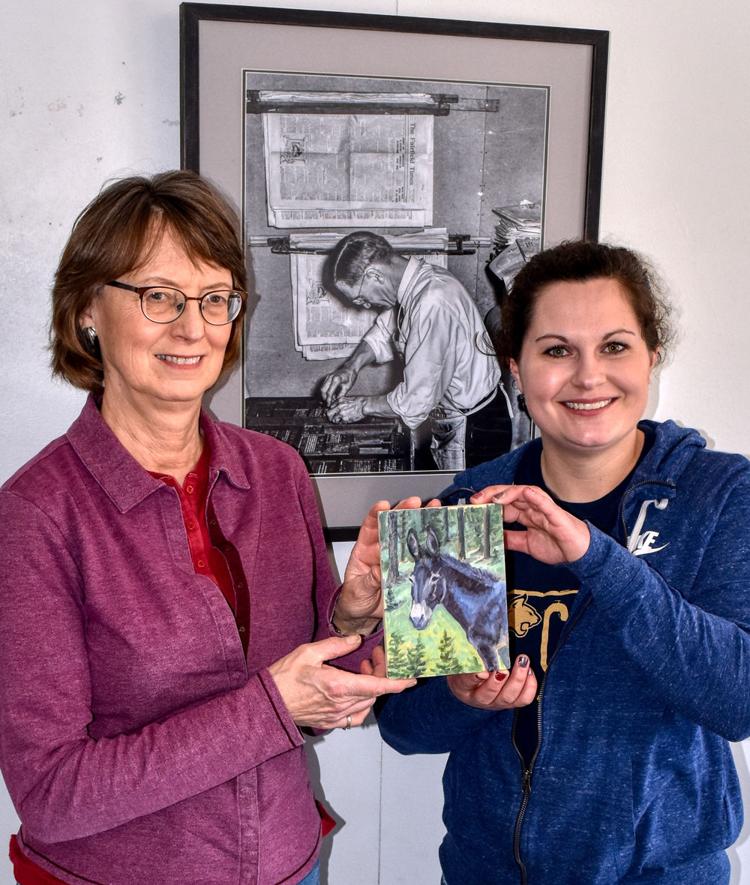 SOLD!
The first image was of a painting, 5 inches by 7 inches, of a mule. I knew that mule. It was "Sam," "Bill" or "Abe," the three names my grand-dad would use for his mules. He always had a pair of mules, and those were their names. There were multiple mules by those names over the years.
I bought the painting and Diane passed the donation on to Megan Caffyn, with the Fairfield Food Pantry.
The support for local food pantries could not come at a better time. With businesses shut down with the COVID-19 virus threat, families are turning to the pantries as a means to put food on the table as everyone waits for the "all clear" and businesses reopen.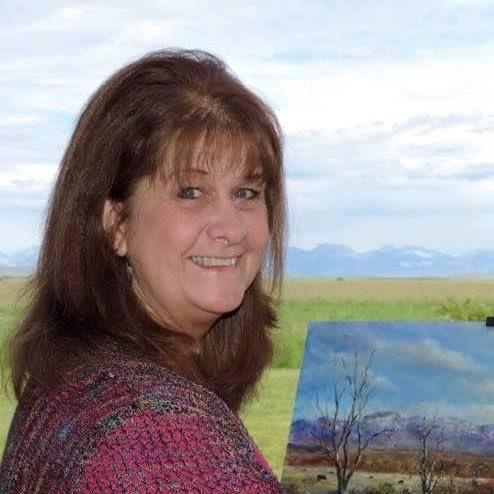 The painting a day project morphed into the "Painting for the Pantry" thanks to Choteau artist Leslie Kesler.
Leslie told the Sun Times, "This has been a whirlwind in a very positive way.  Several of us from around the area had been doing a small painting a day just to keep our spirits up during this troubling time. 
I had been thinking about the food pantries and was concerned about how they were going to keep up if things went from bad to worse.  Both my children had been active in 4-H growing up and had done projects for the Food Pantry. 
My son is now on the board for the Montana Food Bank Network (MFBN).  Probably because of those reasons I was thinking that maybe I could sell a few of my quick paintings and raise a little money for either a food pantry or the MFBN.  I put four of the paintings on Facebook for $50 each explaining that they would go to the buyer's choice of pantries.  Within an hour all four were sold. 
I painted two more, posted them and they too sold within an hour. Several other artists noticed what I was doing and asked about doing the same. After speaking to a few I decided it would be best to set up a Facebook page (LINK: https://bit.ly/2RcB2yO) dedicated to this. I brainstormed with an artist friend of mine from Ennis, Cathy Toot, and came up with the name Painting for the Pantry. I contacted a few more artists and the Facebook page became a reality. Diane Hausman and Shelly Walker who are both involved in Front Range Art Association with me had already been doing quick paintings, so they jumped on board."
By Saturday, eight artists were participating via the Facebook page, with many more saying that they planned to take part as well.
On Saturday afternoon, the Sun Times visited Fairfield artist Andy Watson, who had already started working on his paintings, with a couple of them completed, and more in various stages of progress.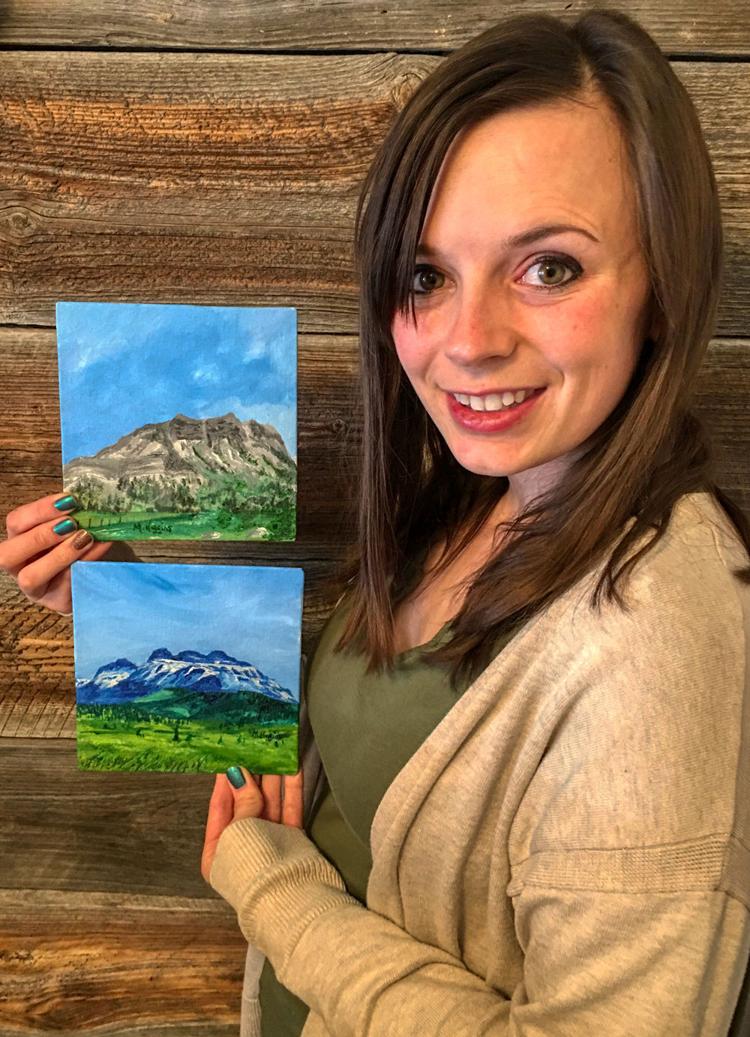 Leslie said other area artists taking part included Shirley Sand Haynes, Shelly Walker, Mariah Higgins, Dawn Sievers and Theresa Oksness. She added, "I expect that will grow quickly as this area is rich in talented artists.  The Facebook page is being shared everywhere, so the past couple days I have had requests from artists across the state and beyond asking if they can join in."
When asked how many paintings had been sold, Leslie told the Sun Times, "Several artists have been selling on their own Facebook pages so I don't yet have an exact number of paintings sold but it is close to 20.  Not too bad when we didn't even start until the end of the week.  The paintings are all smaller 5 by 7, 6 by 6, 4 by 8, 4 by 4 etc. and come unframed.  All are priced at $50.00 regardless of size.  The buyer gets the choice of where their donation goes, so they will write a check for $50.00 to their food pantry of choice and send it along with a $7.00 check made out to the artist to cover the artist's shipping, handling and incidental fees. When the artist gets the checks they will then mail the painting to the buyer and forward the donation checks to the buyer's pantry of choice."
When asked if it is hard to find the inspiration for a painting every day, Leslie explained, "I think living in Montana - especially by the Rocky Mountain Front - that we have such an abundance of choices to paint that most artists from here could paint every day of their lives and still have something else to paint.  I have a view from Sawtooth to Heart Butte just from my studio window on our ranch north of Choteau.  With the sky ever changing I can paint the Rocky Mountain Front again and again and it will look different every time. Several artist, including Diane Hausmann, are great at painting animals.  This project gives people a chance to get a professional piece of art and make a contribution to a very good cause."
I agree. I have always wanted a "Hausmann," a "Watson," a "Higgins," or some of the many other local artists' works to hang on my walls.
Another question we posed to Leslie was "how long does it take to do one of the smaller paintings?" "Most of the paintings are quick painting which means they are done in an hour or so," she said. "Some artists are quicker than others.  I find if a painting is coming together nicely it doesn't take me more than an hour to do small painting.  This comes from practice though, as I have taken days to do a small 5 by 7 painting."
Asked if local artists had done similar projects to support food pantries in the past, Leslie told the Sun Times, "This is the first I know of doing a fund raiser for the food pantries by artists at least in this area.  Hopefully what we do will bring some money to both the Teton County Food Pantry and the Fairfield Food Pantry as well as the many around the State.  These local pantries have been important to our communities, but in the weeks ahead they may become more necessary than ever.  We can only pray that this pandemic starts to subside, and we can get back to some normalcy.  Until then if we as artists can keep painting, and people that can and are willing to support the pantries by purchasing those painting keep doing so, then we will have all made a difference."