He carried farm supplies.
He carried shovels, rakes, and seeds.
He lifted little children over barbed wire fences.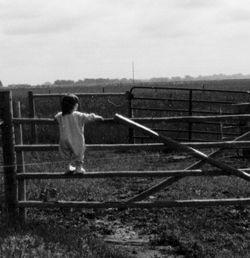 He carried the burdens of supporting a family of seven on a farmer's pay. Every day he carried an empty Folgers container to grab a scoop of cat food; two cats resided on the farm to keep the mice at bay.
He carried the paint and the brush and the hopes that the barn will survive another wind storm. Whenever something needed fixing, he carried various tools including hammers, screwdrivers, and pliers.
He carried newborn calves.
He carried the orange canvas dams for the irrigation ditch. On his feet he wore heavy muck boots.
He carried sleepy little ones to bed. Sometimes he carried barbed wire for fences.
He carried new parts for the vehicles. On warm summer nights he carried a high-powered flashlight to make sure all was well on the silent farm.
He carried ripe vegetables to the dinner table that would soon be cooked to mush.
He carried feed and fragrant sweet alfalfa.
He carried golden sun ripened hay.
He carried the harvest.
He carried planks of wood, handfuls of nails, and the fear of bad weather. Before the snow set in he carried piles of chopped wood.
He carried the worry of a devastatingly cold winter that will kill next year's crop.
He carried toddlers on his shoulders and the responsibility for their future.
He carried a gentle smile upon his weathered and tired face.
He carried the love of a family in his heart.