On Tuesday, September 7, a Dodge Ram pickup truck rear-ended a school bus near Greenfield School.
From the report filed with the Teton County Sheriff's Office, the call came in at 7:51 am.
According to Teton County Sheriff Keith Van Setten, the bus was eastbound toward Greenfield School, traveling at a slow speed on Highway 431.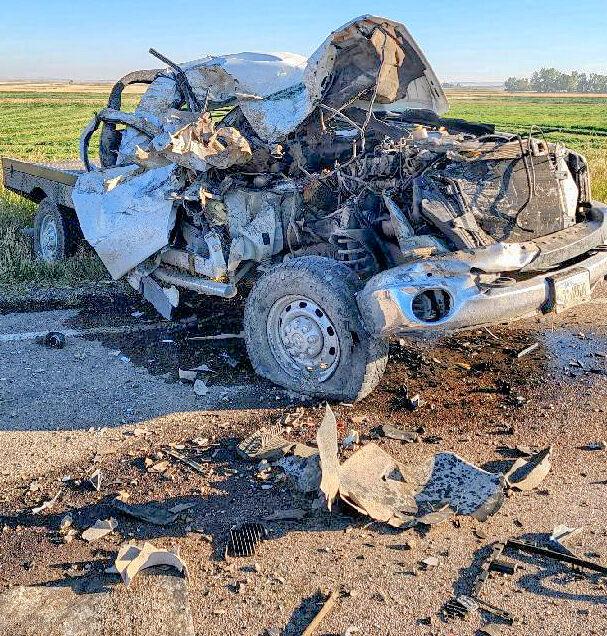 The driver of the pickup attempted to pass the bus at a "high rate of speed," but as the driver started to pass the driver was "hindered somewhat" by the rising sun. The driver noticed an oncoming car and pulled back behind the bus. Because the driver of the truck was traveling at a high rate of speed, he was unable to slow down enough to avoid hutting the bus from the rear.
The pickup was severely damaged.
There were 13 students on the bus. A few of the students were treated for minor scratches. No students were transported to a medical facility by ambulance.
A deputy from Choteau responded as did Fairfield Ambulance, Fairfield Fire Department and Montana Highway Patrol.
Mercy Flight was called to provide transport for the truck driver, who was badly injured and bleeding. A few minutes later Mercy Flight was canceled and the driver was transported by Fairfield Ambulance to Benefis Hospital in Great Falls.
Sheriff Van Setten, after seeing some photos of the wreck provided by the deputy on the scene, told the Sun Times, "There was quite a bit of damage to the pickup truck.  The bus did not appear to have been damaged greatly.  I can say that in seeing the photos the deputy provided, it obviously showed that the school bus was built to protect the occupants inside. It was extremely fortunate that there were no serious injury or death in this crash."