The Eager Eagles 4-H Club braved the recent cold weather to conduct an evening business meeting and to hear fellow member Trever Severinsen share about his recent trip to warm New Zealand.  Before Trever shared slides and stories from his six-week trip, the club enjoyed steaming bowls of hot soup.  Franz Bakery generously donated ten loaves of bread to go with the soup. Youth and parents dreamed of summer as they enjoyed shortcakes with summer fruits. Local MSU Extension agent, Jane Wolery, explained to these future leaders the importance of accurate record keeping. She outlined an upcoming program that will help 4-Hers utilize technology to keep accurate records easily.  The technology has the potential to revolutionize the infamous record keeping aspect of the nationwide organization that some 4-H members have referred to as "dreadful!"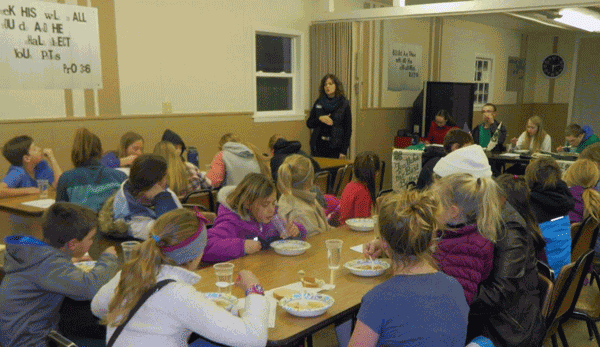 In addition to getting hands on experience with paperwork, 4-H members of all ages get the opportunity to speak in front of their peers and parents by reporting on recent 4-H endeavors.  This month, members had the opportunity to report on a number of engaging activities including a six-week archery class in Choteau, a cooking afternoon at the Konens, the KMON livestock and meat judging contest in Great Falls, Citizenship Seminar in Helena, and Legislative Breakfast--a 6:30 a.m. well-attended, statewide event with numerous legislators including Senator Gillespie and Representative Fitzgerald who sat with local 4-H members.  It is no overstatement to say that 4-H is giving our local youth ample opportunities to hone valuable skills.  4-H is grateful to local volunteers who make these opportunities possible.
What is most amazing about these Fairfield youth, is that in the midst of all these great activities, many of them are busy taking care of livestock.  At least ten Eager Eagles are currently caring for steers, keeping them warm, well-fed and watered in this difficult weather.  Numerous others are gearing up to pick out pigs, sheep and goats to care for in preparation for the June fair and livestock auction.  It is encouraging to see kids as young as nine years old taking on significant responsibility.
As an extension of their service project mindset, the Eager Eagles brought canned soup to donate to the Fairfield Food Pantry.  The four officers practiced parliamentary procedure to conduct their meeting. It's not hard to imagine these members serving on boards and investing in the needs of their communities now and in the future.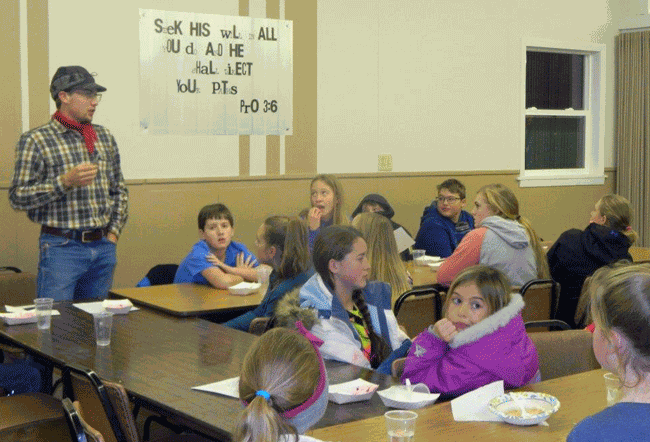 Finally, while the Cloverbuds made a craft, Trever Severinsen presented a Powerpoint presentation of his trip to visit his relatives in New Zealand. He shared treats and experiences from his time in the Kiwi nation. The trees, glaciers, parks, penguins, ocean and kiwi ice cream all contributed to his fond memories.  Many 4-H youth and adults were left dreaming of the amazing sights and warmer climate of the island nation. Trever has the opportunity to present his program again this spring at County Communication Day.  If you would like to learn more about New Zealand and numerous other interesting topics that 4-Hers are engaged in, please join members and families of the six different county clubs at the Choteau Baptist Church on March 29  at 3:30.  Chances are the weather will be considerably warmer by then!