The Country Cubs, previously know as the Greenfield PTA, will be holding their annual dance this Friday. This event is a dinner and raffle fundraiser. Tickets are no longer available, but a 50/50 will take place that evening. The Country Cubs have used the proceeds they have made in the past to help staff with medical bills, fund school field trips and the school's AR program. This year the proceeds of the night will be used to fix up the Greenfield School baseball field.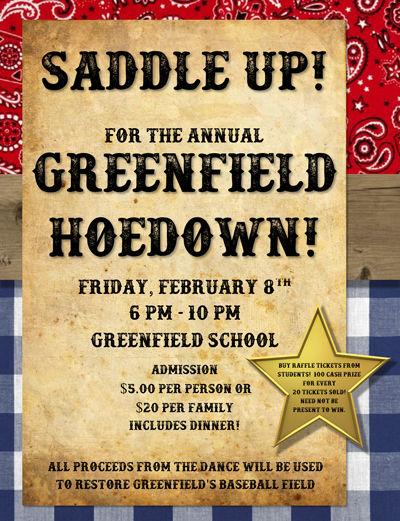 Tonya Jolley, the president of the Cubs, said this regarding the baseball field, "This spring will start a multiple year project to restore the field, phase 1 is in-field, which will hopefully make it possible for the kids to practice on it. Phase 2 is the outfield, including a sprinkler system. And from there we'd like to add dug outs, a backstop and fencing, hopefully making it a fully functioning, game-hosting field. Money will be the deciding factor on when the project is completed. It'll cost about $12,000 - $15,000, over all."
This will be a fun improvement for the current Greenfield student body and for those yet to come.