GREAT FALLS — The Great Falls Montana Stake of The Church of Jesus Christ of Latter-day Saints is staging a full production of the original musical drama "Symphony of Life—A Musical Retelling of the Good Samaritan," written and composed by local resident Suzette Bruggeman.
Free performances are open to the public and scheduled for 7:00PM on May 16-18, with a 11:00AM matinee on May 18. All performances are held at The Church of Jesus Christ of Latter-day Saints building located at 1401 9th St. NW in Great Falls.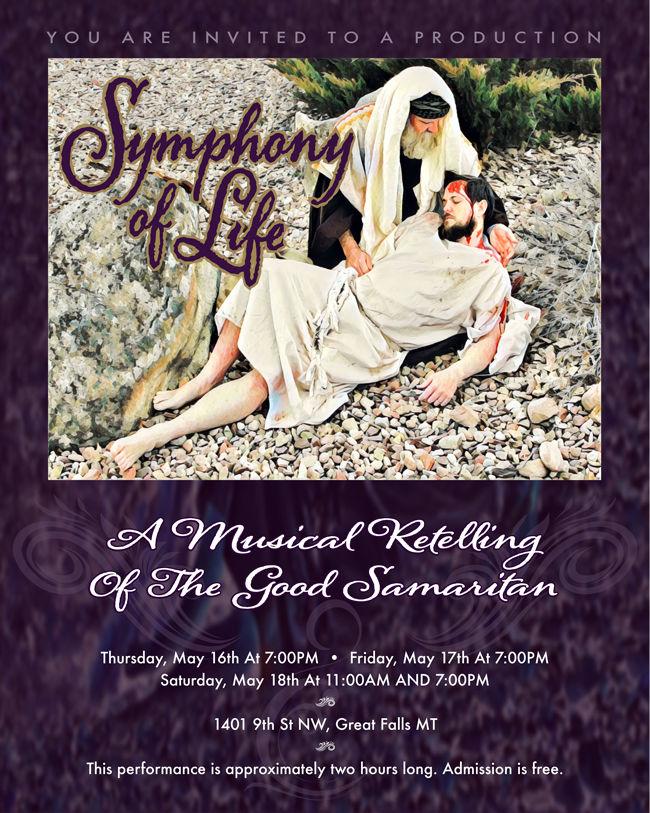 Directed by Bruggeman, "Symphony of Life" is an entertaining and uplifting production with an appealing "love your neighbor" message.  Set in ancient Jerusalem when Rome rules over Judea, the original script, music and lyrics bring to life an engaging story of Joel, a Jewish tax collector who abuses his power and authority as he collects taxes from his fellow Jews. He is attacked in retribution, and his subsequent experiences as he heals in body and mind are loosely based on the parable of the Good Samaritan found in the New Testament. The plot blends scripture and spiritual messages with intrigue, misjudgments and humor as the story of Joel's change of heart unfolds and he comes to understand who his neighbors truly are.
With full sets and costumes specially designed for the show, the two-hour musical features a 24-member cast of talented residents from Great Falls, Cascade and Fairfield. They are accompanied by a professional soundtrack arranged by Justin Gray, the musical director of the Lawrence Welk Theater in San Diego, California.
Mike Mahana, Behavior Specialist for Cascade Public Schools and father of five, stars as Joel, the antagonistic tax collector. He is joined by Scott Woodland, retired Master Sergeant United States Air Force and Boy Scout volunteer, as the Samaritan who finds Joel beaten on the road and brings him to an inn to heal. Jordan Jensen, instructor at Access Fitness and mother of three, plays Hadassah, a young widow whose cheerful and caring nature is instrumental in Joel's change of heart as she helps care for him in the inn.
Attendees are advised to come early for open seating.
COVER PHOTO: The set for "Symphony of Life," shown above, was created by Fairfield artist Andy Watson. Courtesy photo.