Did you know that over the decades a little bit of love from Fairfield has reached out to people around the world?
That's what struck me as I met with Agnes Kolste, Carol McWilliams and Judy Shannon recently at Grace Lutheran Church in Fairfield.
The three ladies and a few others gather for a week-long quilting session once or twice a year to put the finishing touches on quilts. Many of the quilts are donated to Lutheran World Relief, a worldwide organization that helps out those in need around the world. Some of the quilts are sent to the Flathead Lutheran Bible Camp and some quilts are kept for those in need in our area.
The quilts may end up at Cameron House in Great Falls, the part of the Great Falls Rescue Mission that serves women, children and families. If someone in the area loses their home – maybe in a fire – the ladies have quilts ready to bring warmth and a little touch of home to a family in need.
Sometimes the quilts help in another way: if there is a fundraiser for someone that needs help, the ladies will donate a quilt for a silent auction.
The quilting ladies will have one of their week-long quiltings soon, planned for the week that begins on Monday, May 13. The gatherings will start at 9:00 a.m. and will end each day at 4:00 p.m.
The ladies are looking for help.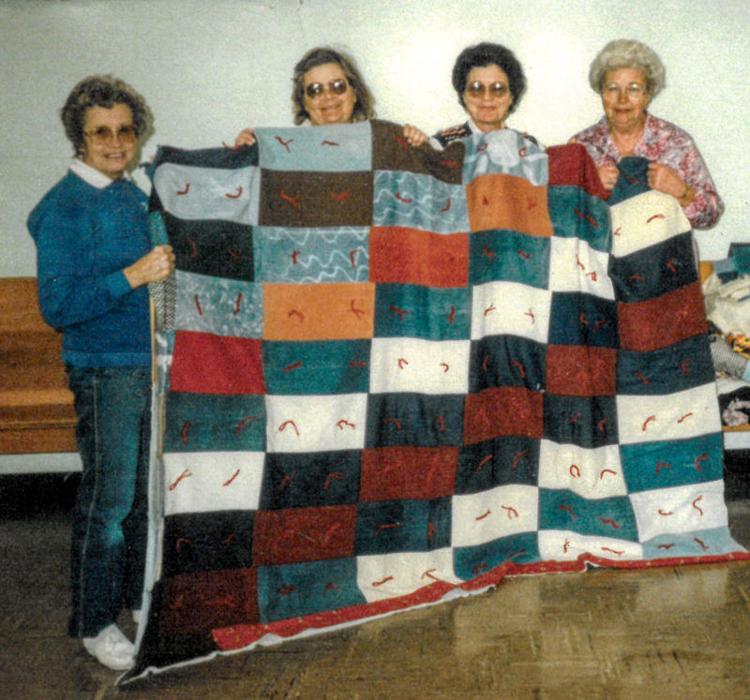 Agnes told the Sun Times that there are a lot of people in Fairfield who quilt, but you don't have to be an expert – or even a beginner – to start. You might even get a start just tying knots.
The quilting technique they use, according to the ladies, is the simple "block and tie" method. Blocks of fabric are sewn together and the tops of the blocks are tied. The ladies said that even the sewing is simple "straight stitch sewing."
During the week of quilting the ladies encourage people that are interested to come by and visit.
Asked how long members of the churches had been making quilts, Carol McWilliams said it stated "sixty-plus years ago." Judy Shannon said her mother-in-law did it "all her life.'
Judy Shannon said that years ago, there would be "two or three generations of a family" that would show up to quilt. "Back then, we would have 20 or 30 people.
Asked how it felt to know that a little piece of love from Fairfield, Montana ends up giving people comfort all around the globe, the ladies were unanimous in their reply: "Wonderful!"
The three ladies said that they enjoyed the fellowship of their time together making the quilts. "The coffee pot is always on." And, if it looks like there's going to be a good crowd after the first day, a crockpot of home-cooked goodness might show up as well.
One of the quilting projects the ladies undertake each year is to sew quilts for the graduating high-school seniors of the church. Often, the senior's moms will help make the quilts, adding just a little more or a personal touch. Those quilts include a picture of the church and that it came from the Fairfield Lutheran Parish ladies – a little reminder of Fairfield.
In addition to looking for some extra hands, the ladies are also looking for material – fabric.
What they need is fabric from cotton or cotton blends. Sheets, blue jeans, curtains – fabrics that don't stretch. They need clean, usable fabric.
They can also use donations of money to aid in purchasing items such as the batting – the thick, airy material that gives a quilt its thickness.
If you would like to find out more, or donate material, call Agnes Kolste at 467-2885 or 590-2885.