My cell phone rang a couple of Mondays ago - it was Darryl.  "What ya doing July 13?" the publisher asked.
Never sure what I'm doing tomorrow, let alone almost two weeks from that moment, I said  "I'm not sure, what's going on?"
"Would you be interested in taking a flight with the Army Golden Knights parachute team at the Malmstrom Open House?"
"Absolutely, sign me up!" was my immediate reply. My schedule seemed to clear right up!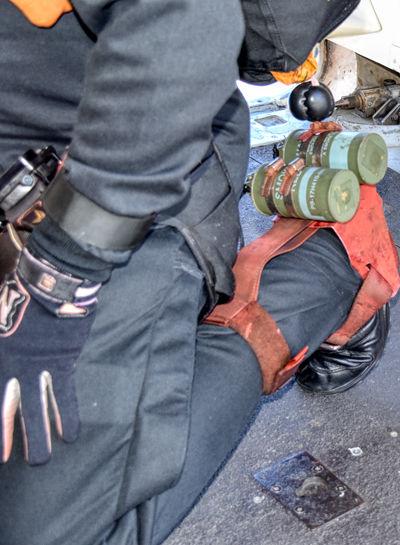 The Army Golden Knights are the United States Army's official aerial parachute demonstration and competition team. The Gold Team unit was set to perform for Malmstrom Air Force Base's open house event, Mission Over Malmstrom. The Golden Knights perform for audiences at airshows in smaller communities such as the Malmstrom Open House and also large national and international airshows. They've performed their aerial maneuvers and dropped into everything from college football games to NFL's Monday Night Football and NASCAR events. They've performed more than 20,000 shows in all 50 states and 48 countries. They're kind of a big deal, and The Fairfield Sun Times was going to fly with them. Needless to say I was excited and ecstatic to represent our little community and share with our readers some behind the scenes action.
My day to cover the event was Saturday, July 13. The media was to show up at the Montana Air National Guard facility at 1:10 PM. We were all told to bring our media credentials, of course, and a jacket, hat and gloves. It was July, hot and sunny. Why would we need a jacket, hat and gloves?  More on that later…
We met the representatives from Malmstrom and the Montana Air National Guard (MANG) and we were escorted onto the tarmac and up to the Fokker C-31A troopship that would be our ride into the wild blue yonder. Media representatives from KRTV and KFBB were also in attendance. We were given a briefing on what to do and not do on our ride by Golden Knight member SFC Mike Koch and handed a liability release to sign. We had about 15 minutes before we hit the skies, so we were free to visit with the members of the team and take a few pictures until we loaded up.
As we were mingling, the storm clouds were building in the west and the winds on the ground were starting to get stronger. As the storm continued to build, one of the team members informed us that we were going to be delayed for a bit to see what the thunderstorms in the area were going to do.  He also stated that skydivers, being they are at the mercy of the wind, would not jump if the winds were over 20 mph. That was the first indication that things may not go off as planned, we natives don't even consider it windy if it's only blowing 20 and I knew what those storm clouds on the horizon meant.
We hung around and visited for 45 minutes before the word came down, the Golden Knights portion of the show would be canceled and we would not be flying today due to the unsettled, thunderstormy weather. I was a bit deflated to say the least. It was wonderful to meet the young men of the Golden Knights and hear their stories but I was disappointed that I wouldn't get to fly with them. SPC Koch asked if anyone could come in tomorrow to ride. He told us they had a couple openings for their 10:00 a.m. and 2:00 p.m. flights. I signed up for a seat on the 2 p.m. Sunday flight and it was "game on" again!
I woke up Sunday morning to a bit of a blustery day. As I stepped out of church to head to Great Falls, the sun had come out and it was a beautiful day. It was time to fly with the Knights!
When I arrived at the Air Guard to board my flight I found out that the 10:00 a.m.  morning flight had taken off and circled Malmstrom but the Golden Knights didn't jump and perform due to weather. I hoped that things would come together for our afternoon flight, and, oh boy, did they.
We took off from the MANG base and headed to the skies over Malmstrom AFB and did our streamer drop at 2000 feet. This is done so the parachutists can see what the winds are doing on the way down so they can line the plane up to hit their mark in front of the audience waiting below.
After the streamers were dropped and the conditions were assessed, we began our ascent to 12,000 feet. So here's where the jacket hat and gloves comes in to play. Keep in mind that we are flying in an airplane with two five-by-five foot openings in each side with a 200 mph wind blowing through. When we got to jump altitude, about 13,500 feet above sea level it was a balmy 35 degrees and a touch windy. We spent around an hour up there getting the jump passes on line and made five or six passes as the Golden Knights jumped out in show sequence. I was smart enough to put my jacket on before we left the ground, but I was "too tough" for a hat and gloves. Let's just say by the time we landed, I was mildly hypothermic and drove home to Fairfield with the windows shut, no A/C and absorbed the glorious 100 degree heat inside my car.
I could talk for hours on the things I experienced last weekend. If you see me around and have an hour to kill, I would love to tell you about it. Since the Times only has so much room for words, I will direct you to the accompanying pictures and will end this narrative with these thoughts:  in this day and age when it seems like Pride in our Country is a little, shall we say, down, I was happy to cover the Malmstrom Open House.  The wonderful men and women I interacted with from Malmstrom, the Montana Air National Guard and the Golden Knights were examples of professionalism and dedication to their chosen military careers. Everyone I talked to, from the Public Affairs Officers, to the security guards, to the pilots and the Knights said they have the greatest job in the world. They all reflected the pride of their training and were happy to share the knowledge that they have acquired while serving our country.
Yes, the flight and the sights were incredible, but I was most impressed by those men and women who have CHOSEN to dedicate a piece of their lives to serve, protect and defend the Greatest Country in the World, The United States of America! God Bless and protect those individuals who ensure we can all sleep well at night and God Bless the USA!