Come belly up to the bar, the outside corral or the canteen at the newly re-opened Lazy B in Augusta. Lazy B saw a change in ownership on March 23rd amidst the pandemic. Owners AND cousins Matt Pflieger and Frank Morgan took a leap of faith and closed on what Frank describes as a line on his bucket list and bought the historic bar and upstairs living quarters.

For a look at how the stars lined up on this purchase, Frank and wife Mindy were on a trek from Glacier to Phillipsburg to stay with Matt. They popped into the bar to have lunch, after a hiking trip (where Mindy trounced on Frank!) and started visiting with then-owner, Zack. He shared that he was thinking of selling the Lazy B. Mindy looked at Frank and said, "Don't even think about it!" As it is in most good and resilient marriages, Frank, Mindy, Matt and Matt's wife, Cheryl now own the Lazy B and Frank's bucket list has shrunk.
For Augustans this community-minded pair is a welcome addition. As Pflieger hints, "It is not just The Lazy B. It's the community" of which he is enamoured  and buying it "seemed like the right thing to do."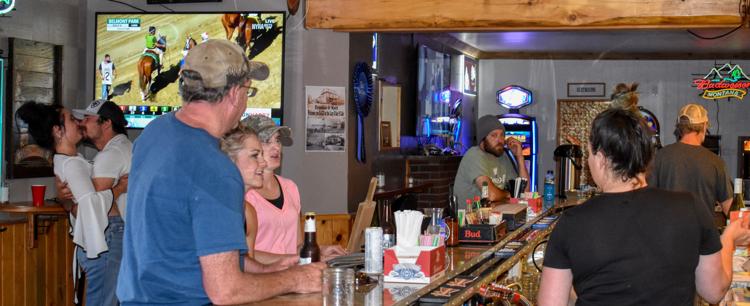 Morgan shares that the deal almost didn't go through with Covid-19 at its peak, but they did not want their dream to die with something they knew would pass.
Inspiration for the menu comes from their family background that embraces homemade and fresh. The community is thrilled to see The Lazy B open for breakfast at 6 am with the grill producing a broad offering until 9 pm, six days a week, only closing on Tuesdays.
The "canteen" is for overflow and special events, with 4 newly-added arcade games. They also are filling the ice cream void by serving hard ice cream in their notable cones with the Lazy B brand on the bottom.
Team member and Augusta native Nicole Krone who heads to MSU in the fall fills her summer days in the kitchen. She offers that she " loves working with Frankie and Matt who are so sweet" and who emphasize team work.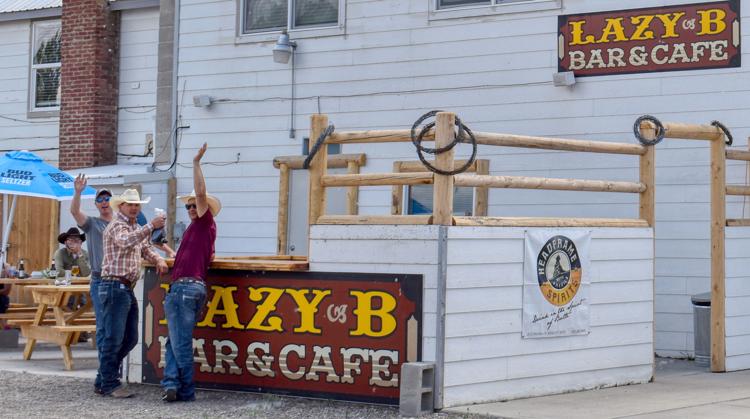 Similarly, her associate Courtney White exclaims, "I  like working in a family environment with a staff that it amazing and it is upbeat and fun."
The historic building itself has earned some recent facelifts with the fully reconstructed balcony, corral and canteen.
To tempt your palate, "The B" has added chicken Parmesan, a secret hot dog sauce, homemade dressings, stuffed macaroni and cheese and homemade breads. Pflieger says they will never get in a "rut" and are listening to the community on what they want to see served. Having tried some of the delectable homemade soups, I guarantee you will not be disappointed.
When queried, Krone says her favorite menu item is the panini and when questioned separately Plieger states the same. Morgan says pizzas are flying (not literally; that's another story) out the door.
As Pflieger said, buying The Lazy B "felt right". For those of us on the other side of the bar, it feels right for us, too, and we are happy to have the cousins and their local team as part of the community.