Visiting with president Kerry Bouchard of The Augusta Area Historical Society is like taking an entertaining trip back in time. This local historian was instrumental in launching the Augusta museum in 2005 and was then-joined by members of the Krone, Weisner, Barrett, Scherrer, Wolfe, Dellwo, Neckstad and Capozzoli families.
When asked what the impetus was for starting the museum, Bouchard affirms, "Augusta has such a rich heritage, we thought we should have a place to share it and save it for future generations."
Some of the more popular exhibits are from early homesteaders the Cunniffs and the Whites as well as the recent acquisition remembering doctor, dentist Oscar Kenck.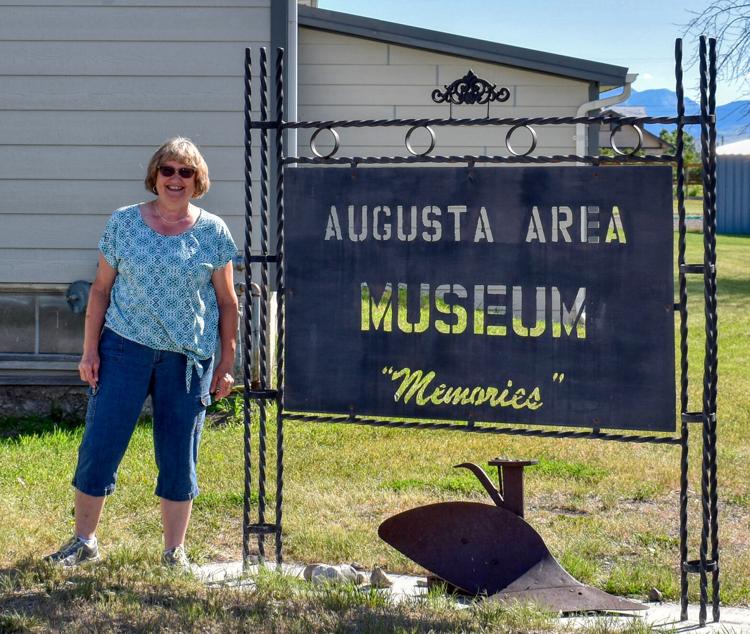 Come to the museum to enjoy what Kenck described as his "dental car". Kenck first began his dental practice in Helena. He then outfitted a wagon to act as a dental office and it included a water tank, implements, a dental chair and it was pulled by horses from Helena to Augusta while stopping at neighboring ranches along the way.
No one quite knows for sure why Kenck chose to put together this 1900-era mobile office, but one may assume it had something to do with Rita Auchard. Auchard had been a patient of Kencks in Helena and when he pulled up to her family's ranch in his dental car, she cried, "It's about time you made it here!" Auchard and Kenck were later married.
When queried on her favorite exhibit at the museum, Bouchard does not hesitate: it is the WWII wall with soldier photos and stories. They are trying to supplement the wall with artifacts and photos from those who served in the Korean War, WWI and Vietnam. Interestingly and not surprisingly, those who served in The Vietnam War are reluctant to revisit that conflict, so that tribute is a little light to-date.
Bouchard adds that during WWII, Augusta had the highest per capita members serving in the military in all the state. As I noted, this historian is a wealth of Augusta-area factoids.
This Spring and Summer, the museum was granted COVID-19 money and also took in a generous donation from the Kenck Foundation. Those funds went to work on transforming the basement into what will be much-needed display space, a kitchen, office, storage and meeting rooms. Bouchard estimates that the basement will be open next year.
The museum sustains itself through donations, grants and membership. Joining The Augusta Area Historical Society costs range from a mere $10 to lifetime memberships at $250 and it maintains non-profit 501(c)3 status.
Bouchard welcomes involvement from anyone in the area or with ties to Augusta. What she would really like to see in the future are dedicated hours which means dedicated folks who will volunteer to keep the museum open. You can call 406-562-3846, 406-202-1947 or 406-562-3520 if you have donations, want to take a peak inside or are willing to host hours at the museum.
You can find the Augusta, Montana Museum and Historical Society on Facebook. Newsletters are mailed regularly to members. Expect an Audrey VanDeRiet Day in the near future. VanDeRiet was a local activist and heavily involved with the museum who passed away last year.
Currently, the museum and historical society has a full volunteer (that means no hefty salaries!) board which consists of Gerald Wearley, Janet Varland, Sandi White and Ron Mills. These kind locals, members and those before them deserve high accolades. They have done one heck of a job putting together a cherished museum and continue to make it better and better every year.