Editor's Note:This week we continue the story of the Morning Gun No. 1 well that was drilled near East Glacier, Montana in 1955. This week's report comes from a magazine that was published by Union Oil of California, the operator of the Morning Gun. The magazine was titled "On Tour," but was pronounced "on tower", an expression used in the oilfield that means "on duty." The Morning Gun No. 1 was one of many wells drilled in the area during this time, and in future reports we will be detailing some of those other wells. The Morning Gun, though, was unique in the manner in which it was reported, getting positive coverage in local, state and national media.
In upcoming issues we will be detailing the actual production potential of the well, and others around it, and answer the question of "why aren't these stellar wells producing?" For over a year we have been digging through documents... Federal and state  studies, internal oil company documents and news clippings to pull together a story of oil and gas exploration along the "Front."
Seldom if ever in the history of Montana's Blackfeet Nation has there been  a more important or colorful powwow than that of January 17, 1955. It took place on the Blackfeet Indian Reservation near Two Medicine Creek and within sight of the snow-covered Rockies of Glacier National Park. Present were approximately a thousand braves – Indian braves whose ancestors had hunted this former buffalo country for countless generations – Montana braves whose hard work and pioneering have shaped the challenging wilderness into a great state – and by no means least, Union Oil braves who currently are risking several million dollars on the possibility of finding gas or oil beneath the buffalograss top soil.
Though it was an oil-hunting powwow intended principally for braves, a small, wrinkled figure of an Indian woman stole the show. Her name is Otter Woman Morning Gun. She is 87 years of age, according to the best estimate of her four sons. Dressed in an authentic Blackfeet costume of elkhide, but with a flowered shawl pinned around her shoulders, she soberly broke a bottle of Royal Triton over the bit of her namesake wildcat well, then walked back to her 1955 Ford travois, borrowed a cigarette, and sat down.
It was not Mrs. Morning Gun's age or costume or impassiveness that so affected the powwow. Rather, it was the fact that she – come gusher or dry hole, had already struck it rich. The 279 acre tract on which Union Oil was drilling a test well was her land, as was also an adjoining tract willed to her by her late son, John. She had been a shrewd trader. For drilling rights on the two pieces of property, she had obtained from Union Oil $55,821. If the company strikes oil, Otter Woman will receive a 12½ per cent royalty. In the bright, crisp coolness of that January day, she probably ran a gamut of human emotions – from sympathetic good wishes to greenest envy. There was no doubting that the Blackfeet's richest woman had never been followed by so many eyes in all of her 87 years.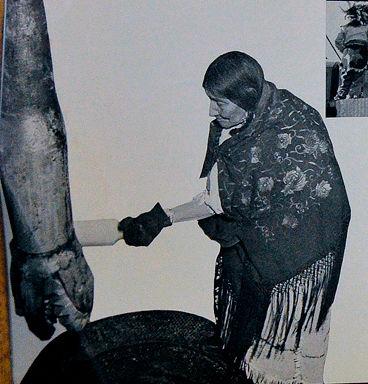 Union Oil's venture on Two Medicine Creek is being taken after more than ten years of costly exploratory work in or near the reservation. We are producing from a number of small discoveries made on other Blackfeet lands. But our geologists and geophysicists meanwhile have been looking toward the west, wondering if there isn't another great gas field here some 60 miles southeast of Alberta's famed Pincher Creek Field. Geophysical work at a cost of $350,000 indicates a continuation of the Pincher Creek trend and the presence under Mrs. Morning Gun's land of good structure. Now to prove the presence of oil or gas will require a series of wildcat wells, the first deep test of which will cost about $400,000. It was the spudding-in of this first well that occasioned the big powwow.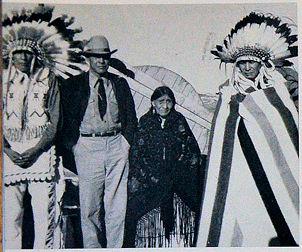 Grateful for the 1.3 million dollars in bonuses and rentals Union Oil has already paid the Blackfeet during our current exploratory program, the Indians responded on January 17 by adopting [Union Oil] President Reese H. Taylor into tribal membership. At colorful ceremonies held in Browning, the reservation's capital, he was fitted with an elaborate headdress and appropriately (at six feet, four) named Chief Big Mountain. Surrounding him were such tribal chieftains as Joe Ironpipe, Ermine Feather, Buffalo Hide, Crow Chief, Iron Breast, Jim White Calf and Theodore Last Star. Nearby, Otter Woman Morning Gun nodded her approval.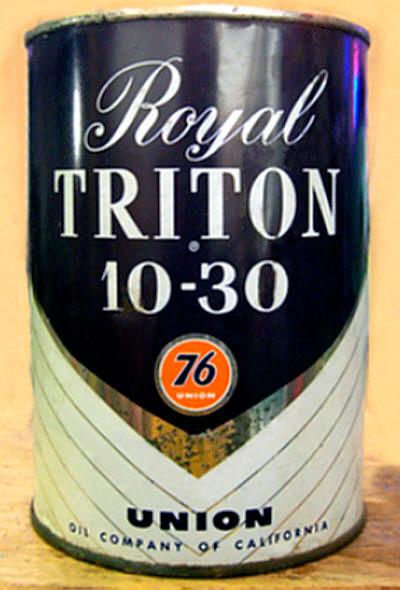 At the spudding-in ceremony, Chief Joe Ironpipe had prayed to the Great Spirit both in Piegan and English, saying: "May my white brothers receive your blessings in successfully developing and bringing all mineral deposits – including uranium, coal, oil and gas – to the surface, that we and our white brothers may forever rejoice in being mutually beneficial."
To the Blackfeet Nation, Chief Big Mountain responded: "Needless to say, we hope your prayers are realized!"
Many thanks to Dennis Seglem, Museum Director at the Glacier County Historical Society and Oil Field Museum in Cut Bank, Montana for his assistance in our research. For more information about the museum, visit www.glaciercountygov.com/museum
This story was originally posted on October 22, 2013 at fairfieldsuntimes.com. It has been reposted to our newer website servers.